State
Have completed all formalities for Visva Bharati Campus in Nainital- Dhami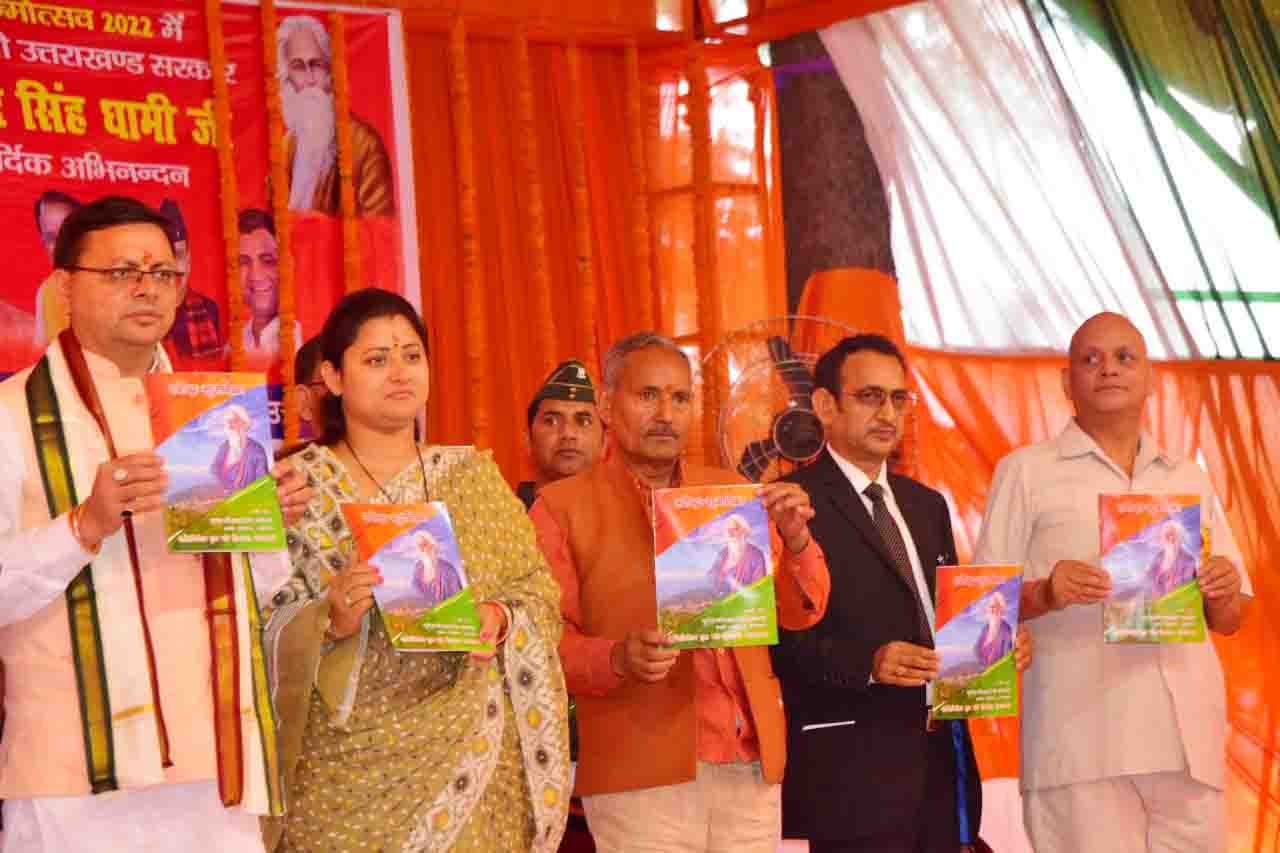 The CM participates in Ravindra Janmotsava – 2022'  & Bhoomi Pujan of Ramgarh campus of Visva Bharati university 
Monday, 09 May 2022 | PNS | Dehradun
The chief minister Pushkar Singh Dhami has said that Uttarakhand government has completed all the formalities required for setting up of a campus of Visva Bharati central University at Ramgarh in Nainital district of the state. He said this after formally inaugurating the ' Ravindra Janmotsava – 2022' at Ramgarh in Nainital on Sunday. The programme is being organised under the aegis of Shanti Niketan Trust for Himalayas to commemorate the 161st birth anniversary of Ravindra Nath Tagore. The CM also participated in Bhoomi Pujan ceremony of first campus of Visva Bharati Central University on the day. The campus would be set up on a 45 acre area of land at Ramgarh. He said that Ramgarh had remained the sacred work place of Tagore as he visited the area five times. He received the Noble prize for literature and was the first Asian to receive the prestigious award. Dhami said that it is a matter of great pride for people of Uttarakhand that Prime Minister Narendra Modi has expressed his desire to set up a campus of Visva Bharati University in Ramgarh. He opined that the campus would be the leading educational centres of the country. Apart from providing employment opportunities for the local youth the university would be new destination for national and international researchers. The CM informed that the union minister of state Ajay Bhatt and former education minister Ramesh Pokhariyal Nishank played a key role for the proposed Ramgarh campus of the Visva Bharati University.
The CM said that Rs 150 Crore Detailed Project Report (DPR) for the first stage of construction of the Ramgarh campus of Vishwa Bharati is in the process of approval in the central government.
Dhami said that his government is moving ahead with the mantra of 'Commitment sans Alternative' and is dedicated for the public welfare. He said that the PM Modi has a special affection for Uttarakhand and under him the government is involved in all round development if the state. He reiterated the Uttarakhand would become one of the best states of the country.
Dhami expressed thanks for the Vice Chancellor (VC) of Visva Bharati Bidyut Chakrabarty and the members of the Shanti Niketan Trust for Himalayas.
The CM was felicitated on the occasion by convener of the programme Atul Joshi, local MLA Ram Singh Kaida, former foreign secretary Shashank and others. A book ' Ravind- Srajanika' was also released in the programme.