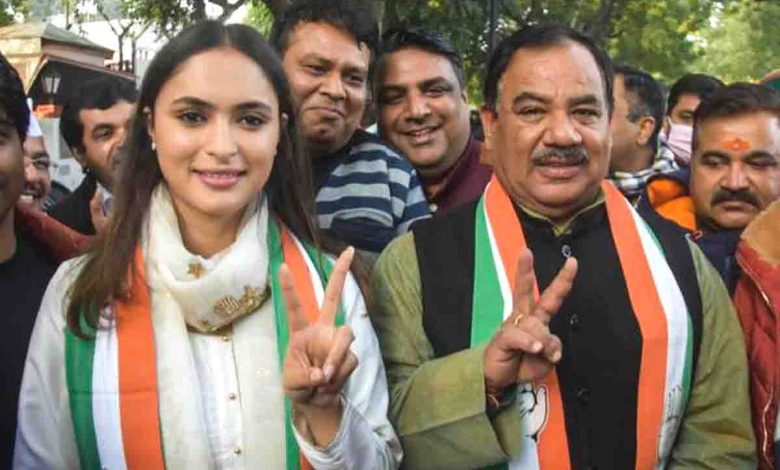 Says he has joined Congress unconditionally along with Anukriti Gusain
Saturday, 22 January 2022 | PNS | Dehradun
Ending the suspense of five days, former cabinet minister Harak Singh Rawat finally joined the Congress party in Delhi on Friday. His daughter in- law Anukriti Gusain for whom he was demanding a ticket from Lansdowne assembly constituency also joined the Congress party with him. On Friday afternoon Harak Singh Rawat arrived at the Congress headquarters in New Delhi along with Anukriti Gusain. The duo headed to the Congress war room where he and Gusain took the membership of Congress party in presence of the in -charge of Uttarakhand Congress Devendra Yadav, former chief minister and head of campaign committee of Uttarakhand Congress Harish Rawat, Pradesh Congress Committee (PCC) president Ganesh Godiyal and leader of opposition (LoP) Pritam Singh.
Interacting with the media persons after joining Congress Rawat said that he is joining the Congress unconditionally. He said that he regrets the incident of 2016 when he led a coup against Harish Rawat which eventually resulted in the fall of the Congress government and imposition of President's rule in the state. However he also tried to justify his act by stating that he left Congress because there was a BJP government at centre. "Since there was a BJP government in Delhi, I thought that a BJP government in Uttarakhand would usher in the development of the state,'' he said.
Harak said that the last five years were the worst phase of more than 30 years of his political career as he could not do much for the development of the state despite being a cabinet minister.
Anukriti Gusain said that for the first time she has joined any political party and said that she is excited to work for the party and people of the state. She said that she would work for women empowerment and strengthening the leadership of women in the state. Gusain added that Harak Singh Rawat is one the biggest leaders of Uttarakhand.