Breaking News
Govt cut winter session short to escape uncomfortable questions: Mahara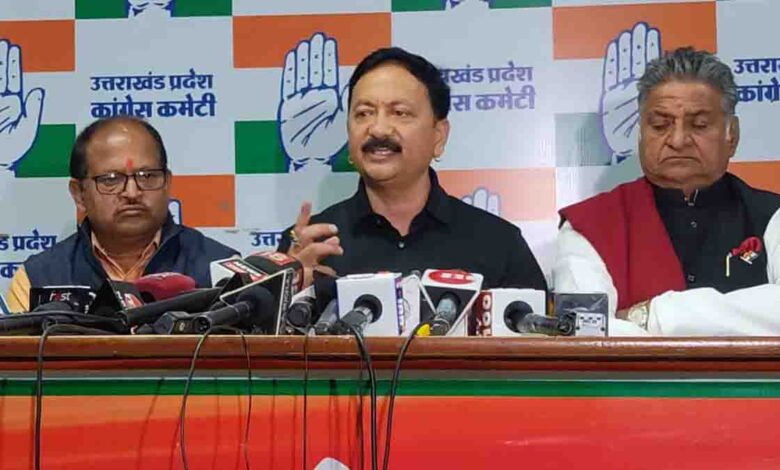 Friday, 02 December 2022 | PNS | DEHRADUN
The Pradesh Congress Committee (PCC) president Karan Mahara has said that the State government deliberately reduced the winter session of the Assembly to escape from the questions of the opposition. Interacting with the media persons at the Rajiv Bhawan here on Thursday the PCC president said that the winter session was organized for only two days because the government was uncomfortable about facing the opposition in the house. He said that the statement of the Vidhan Sabha speaker Ritu Khanduri that she had a business for only two days and the public money should not be wasted is important in this context. Mahara said that the Congress party is of the view that the Assembly should function at least for the minimum number of days to ensure that the issues concerned with the general public are brought to the fore and discussed.
Mahara added that the people of the State were hoping that the State government would give some concrete information and assurance on the Ankita Bhandari case in the house and discussions on law and order condition, unemployment, recruitment scams, and others would be held in the house during the session. The PCC president said that the statement of the Parliamentary Affairs minister Prem Chand Agarwal on the floor of the Assembly that there is no VIP in the Ankita Bhandari case is unfortunate and highly objectionable since the case is still being investigated. Ankita in her mobile chat with her friend had said that she is being coerced to serve some VIP in the resort. Mahara said that the law and order situation in the State is at its nadir. In the past nine months 269 cases of abduction, 139 murder and 554 cases of rape in nine months have been reported in the State. He said that the data provided in the report of National Crime Records Bureau (NCRB) is very depressing for the State which mentions that 3,431 cases of harassment of women were reported last year in the State.
Launching an attack on the chief minister Pushkar Singh Dhami, the PCC president said that instead of attending the proceedings of the assembly, the CM was busy campaigning in the MCD elections in the national capital. He also alleged that deliberate delay is done in providing the material of bills to the opposition members to ensure passage of bills without discussions in the Assembly.