Top Stories
Governor prays at Badrinath, checks master plan works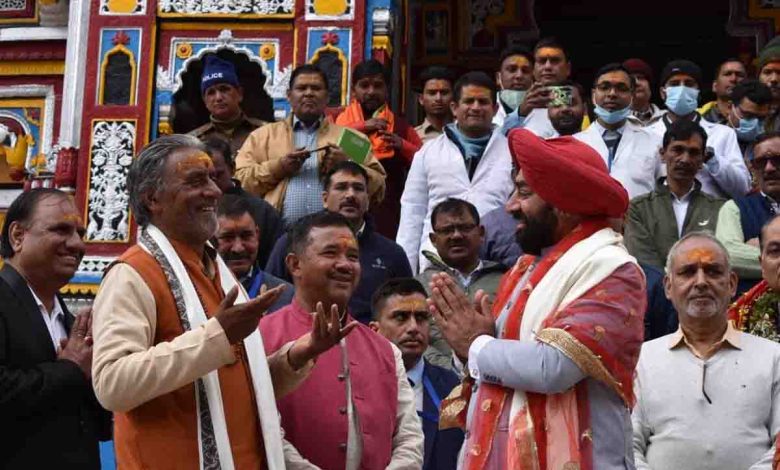 Wednesday, 05 October 2022 | PNS | DEHRADUN
The governor lieutenant general (retd) Gurmit Singh offered prayers at Badrinath shrine on Tuesday. The governor also interacted with the pilgrims and took stock of the arrangements and facilities.
Singh also held a meeting with the district magistrate of Chamoli, Himanshu Khurana and Superintendent of Police Shweta Choubey. In the meeting he took information about the Badrinath master plan. The DM gave a presentation about the Badrinath master plan, the innovative projects and development schemes being undertaken in the district.
The governor appreciated the manner in which works of the Badrinath master plan and reconstruction works are being taken up at a fast pace by involving the local people and Teerth Purohits. He congratulated the team of the administration engaged in the works. The governor suggested that a coffee table book should be prepared on the works of the Badrinath master plan so that reconstruction works in other places can be undertaken on its lines. The governor expressed confidence that in the coming times Badrinath Dham would be more grand and divine. He praised the personnel of the revenue department; police, health department and other organisations deployed in Badrinath shrine and said that the Yatra is going on in a proper manner by a coordinated effort.
He also visited the Swami Vivekanand charitable hospital in Badrinath and viewed the arrangements. He praised the team of the health workers for their dedication, service and promptness in treating patients despite adverse conditions.
The chairman of the Badrinath Kedarnath Temple Committee Ajendra Ajay and others accompanied the governor during the visit.