Breaking News
Gadkari directs expediting construction of all weather road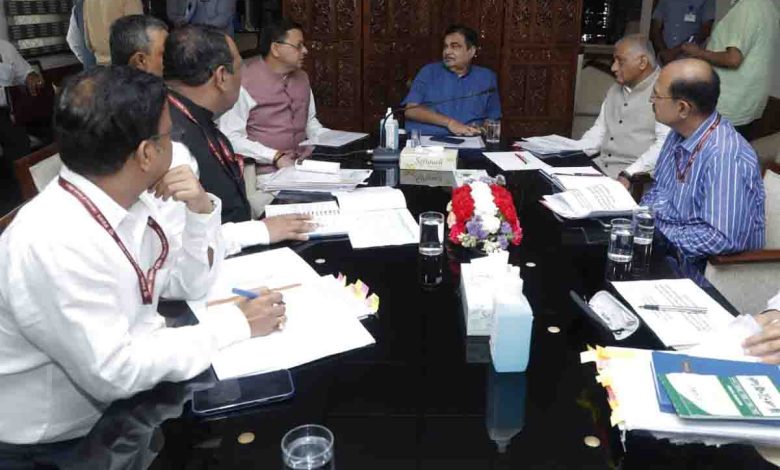 Tuesday, 09 August 2022 | PNS | Dehradun
Approves survey of ring road in Doon & Najibabad- Afjalgarh bypass road
The Union Road Transport and Highways minister, Nitin Gadkari has directed the officials to expedite the work on the all weather road connecting the Char Dhams of Uttarakhand. He gave these orders during his meeting with the chief minister Pushkar Singh Dhami in New Delhi on Monday. Gadkari said that any delay in the completion of the all weather road project would not be proper and the project should be completed soon for the benefit of the general public. Often referred to as the lifeline of Uttarakhand, the 889 kilometre long all weather road is being constructed at a cost of Rs 12,000 crore. The ministry has approved 41 works out of total 53 works in the mega project and till date 19 of them have been completed and work on 22 is in progress. On the request of Dhami, the Union minister directed for the feasibility survey for the construction of Dehradun ring road for decongesting the Dehradun city and nearby areas from a high traffic load. Gadkari also gave a proposal to develop Logistics Park, Fruit and Vegetable Park and Aadhat Bazaar on 1,100 acres of land near the highway. He said that if the state government provides land then these centres would be funded by the union government.
The union minister also accepted the proposal of CM Dhami for the construction of a 42.50 kilometre long Najibabad- Afzalgarh bypass for reducing the distance and travel time between Garhwal and Kumaon regions of the state. This bypass would reduce the distance between Garhwal and Kumaon by 20 kilometres. Gadkari also approved a four lane Majhola- Khatima road which would help in smooth traffic flow and movement of heavy vehicles between Pilibheet and Bareilly of Uttar Pradesh. Apart from these projects the approval for the four lane Sitarganj- Tanakpur motor road was also given. When complete this road would ease the movement of vehicles between Champawat and Pithoragarh districts. In the meeting an understanding for construction of a 47 kilometre road between Pithoragarh- Askot on the lines of the all weather project was reached.
On the request of the CM, the union minister accepted that the compensation for damage of buildings located above and below the land acquired for construction of highways would be given by the union government.
An understanding on holding an international seminar in Dehradun in the month of April next year was also reached in the meeting. Discussion on construction of high quality tunnels in the mountainous areas would be held in the seminar.
The meeting was also attended by union minister of state for Road Transport, General (retd) VK Singh, union additional secretary, Road Transport and Highways Amit Ghosh and Uttarakhand principal secretary RK Sudhanshu along with other senior officers were also present on the occasion.