Breaking News
Focus on high value crops, millets to increase income of farmers: CM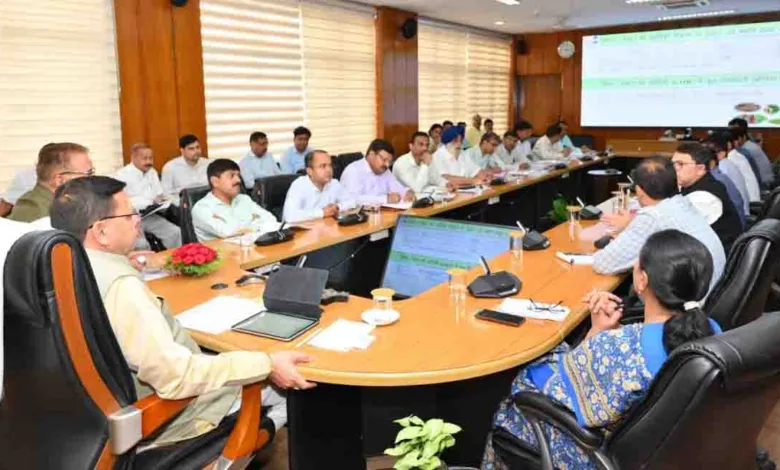 Thursday, 25 May 2023 | PNS | DEHRADUN
Chief Minister Pushkar Singh Dhami has said that high value crops should be encouraged for doubling the income of the farmers and special focus should be done on branding, packaging and marketing of the local produce.
The CM held a meeting with the officers of agriculture and horticulture at the State secretariat on Wednesday. In the meeting he reviewed the progress of the department on the short, mid and long term roadmap to achieve the target of 'empowered Uttarakhand @ 25'.
Dhami directed that better marketing should be done to ensure that the produce of farmers get a better price. He said that special focus on increasing the production of millets should be done. He was of the view that Millets would play a major role in increasing the income of the farmers. The CM said that arrangement of procurement of millets in the procurement centres and Primary Agriculture Credit Societies (PACS) should be done. He directed that Uttarakhand should be made a role model in the field of millets.
Expressing his displeasure on slow pace of works under the Agriculture Infrastructure fund, the CM curtly told the officers that an effective and strong work plan should be prepared for meeting the targets. The farmers should not face any problem in availing credit facility and emphasis should be laid on simplification of the processes. He directed that a meeting of forest, urban development and other related departments should be held to prevent the damage caused by the monkeys to the crops.
CM said that the State cabinet has taken a decision to provide a 70 per cent grant to farmers for setting up poly-houses. He asked the officers to undertake a campaign for promoting poly houses in the State. Dhami said that the produce of the poly houses would be sent to different parts of the country and the State government has decided to set Mandis in Garhwal and Kumaon for the purpose. He said that work on Kiwi and Apple missions should be expedited and opined that pisciculture is a sector which holds vast potential.
The meeting was attended by cabinet minister Ganesh Joshi, additional chief secretary Radha Raturi, secretaries R Meenakshi Sundaram, Shailesh Bagoli, Vinay Shankar Pandey, Deependra Chaudhary and others.