Breaking News
Find ways for solution by simplifying procedures: CM to bureaucrats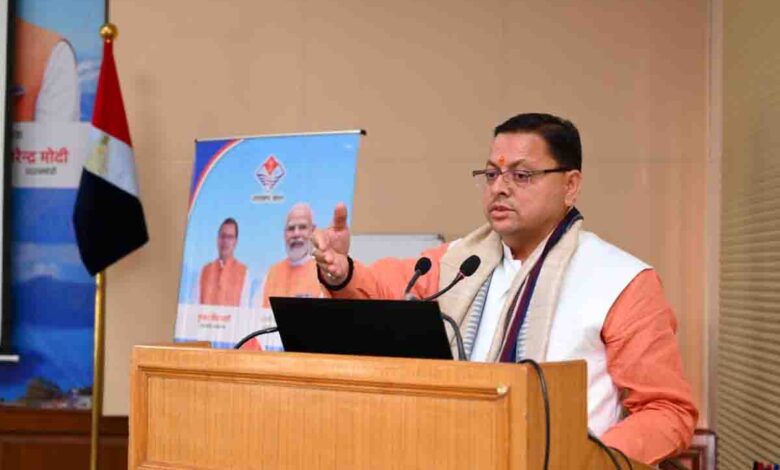 Wednesday, 23 November 2022 | PNS | DEHRADUN
Chief minister Pushkar Singh Dhami has asked the officers to avoid the tendency of passing the buck and find the ways for solution of issues by simplification of departmental processes. He was addressing the inaugural session of the three day 'Sashakt Uttarakhand @ 25 Chintan Shivir' organised at the Lal Bahadur Shastri National Academy of Administration (LBSNAA) in Mussoorie on Tuesday.
He said that deliberation on development of the State would be done in the conclave. Terming the officers as special, the CM said that being the premier administrative service of the country IAS decides the policies of the country. He said that the State government has given the mantra of simplification and the officers should contemplate on finding ways for a solution by simplification. In a veiled warning to the officers the CM said he receives regular feedback on their functioning and added that during the tour of the districts, he prefers to talk to the people from 6 AM to 8 AM during morning walk. He said that many times he receives files with a note 'sent for approval from higher authorities' and suggested that instead of this they should also write about their decision they have taken in the matter.
Exhorting the officers to change their work culture and come out of the 10 to 5 mindset, the CM said that they should create best practices. On a stern note Dhami said that while making entries in the ACR, emphasis should be laid on whether the task given has been completed or not. He said that there is a public opinion that the projects prepared by the government become Dehradun based. The CM said that mountainous districts must be included in the development plan. He said that Uttarakhand is better placed than Himachal Pradesh in environmental and other factors but the neighbouring State is doing better in the horticulture sector. He said that the complaints about the Smart City projects should be redressed. Dhami further said that the policies of the State should be in accordance with the geographical conditions of the State and that the thought process should be practical.