Breaking News
Finance minister presents Budget of Rs 77,407.08 crore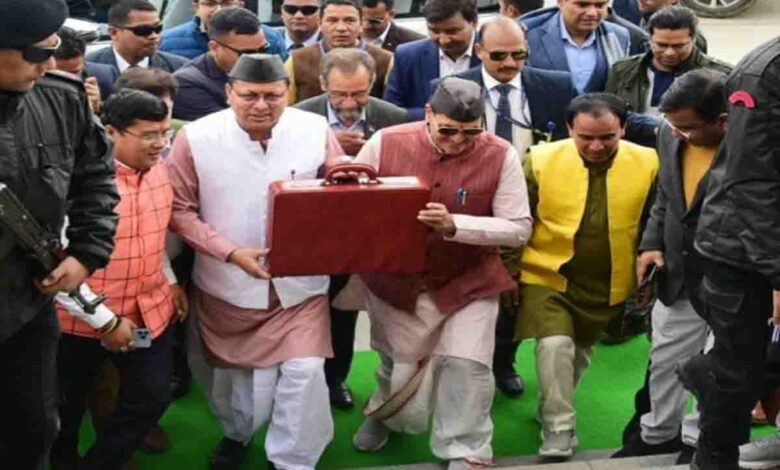 Thursday, 16 March 2023 | PNS | BHARADISAIN
Budget focuses on infrastructure development, education and decentralised development
The Finance minister Premchand Agarwal presented a budget of Rs 77,407.08 crore for the financial year 2023-24 in the state assembly on the third day of the budget session on Wednesday. In the budget the Dhami government has focused on the primary sector, infrastructure and decentralised development.
In the budget document the government's estimated receipts stood at Rs 76,592.54 crore while the expenses are estimated at Rs 77,407.08 crore. In the budgetary expenditure Rs 52,747.71 crore are under revenue account while Rs 24,659.37 crore are under capital accounts. In his speech the finance minister said that a surplus of Rs 4,309.55 crore is expected in this financial year while a fiscal deficit of Rs 9,046.91 crore is expected. This fiscal deficit is 2.72 per cent of the Gross Domestic Production (GDP) of the state.
In view of the Joshimath disaster and the incidences of land subsidence in different parts of the State the government has earmarked a sum of Rs 1,000 crore for the relief and rehabilitation works. In the budget the State government has allocated a sum of Rs 1,300 crore for infrastructure development under different departments. The Dhami government has allocated a sum of Rs 10,459.55 crore for the Education and the Youth Welfare departments.
In the budget a provision of Rs 302.04 crore has been made for the department of Tourism and Rs 63 crore for Uttarakhand Tourist Development Council (UTDC). A provision of Rs 10 crore has been made for development of infrastructure facilities on the Char Dham Yatra route. The budget further allocates a sum of Rs 1,294.15 crore for the Agriculture department while a sum of Rs 4,217.87 crore has been made for the Health department. In the budget an allocation of Rs 400 crore each has been made for Atal Ayushman scheme and construction of medical and nursing colleges in the State. Showing its concern for decentralised development in the State the Dhami government has made an increase of 26 per cent in the budget. It has made a provision of Rs 925.60 crore under the district plan and Rs 3,343 crore for local bodies. An allocation of Rs 2,791.83 crore has been made for the Public Works Department (PWD). The Finance minister made a provision of Rs 1,251.33 crore for the department of Power and a sum of Rs 500 crore is made for the Lakhwad hydropower project.