Top Stories
Expert committee on UCC has completed more than 90% task, says CM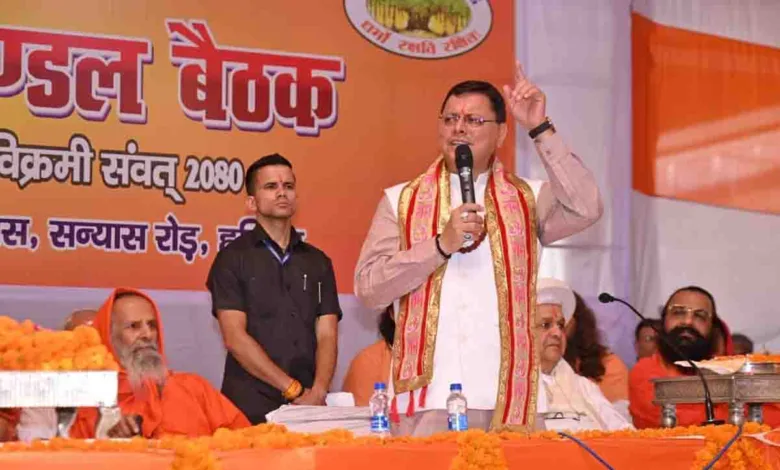 Saturday, 27 MAY 2023 | PNS | DEHRADUN
The expert committee for recommending ways to implement the Uniform Civil Code in Uttarakhand has completed more than 90 per cent of its task and will submit its report on June 30. Stating this, the chief minister Pushkar Singh Dhami said that a strict law has also been brought to prevent forced religious conversion in the State. The chief minister said this after inaugurating a session on the second day of the Vishwa Hindu Parishad Kendriya Margdarshak Mandal meeting at Kankhal in Haridwar on Friday.
Dhami said that religion and culture are being consistently uplifted under Prime Minister Narendra Modi. The long standing dream of devotees is also getting fulfilled with a grand temple to lord Ram being constructed at his birthplace in Ayodhya. Mahakaleshwar in Ujjain has also been given a more divine and grand form. The entire appearance has changed with the construction of the Kashi Vishwanath corridor in Varanasi. Now more than five lakh devotees can take holy water from the Ganga river and conduct Abhishek in the temple conveniently, the CM said.
He further said that the number of people undertaking the Char Dham Yatra is also increasing swiftly. With the construction of ropeways in the future, the pilgrimage to Kedarnath and Hemkund will become more convenient. The CM also talked about the Manaskhand Mandir Mala mission being undertaken in the Kumaon region on the lines of the Char Dham Yatra in the Garhwal region.
Mahamandaleshwar Swami Paramanand Giri, Shankaracharya Vasudevanand Saraswati, Mahamandaleshwar Vishveshwaranand, Mahamandaleshwar Yatindranand Giri and other ascetics also expressed their views on the occasion.
The chief minister garlanded the ascetics and other members of the religious fraternity who had come from various parts of the country to attend the meeting.