Crime
Doon police seize illicit liquor meant to be supplied to Haridwar for Panchayat elections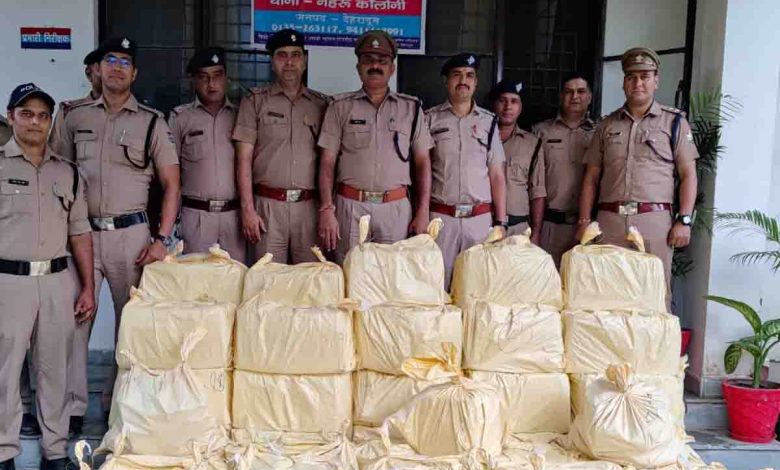 Saturday, 17 September 2022 | PNS | DEHRADUN
Continuing its campaign against bootleggers in the wake of the death of several men in two villages of Haridwar district allegedly due to the consumption of hooch, the Dehradun police seized 113 cases of illicit liquor from Haripur village in the Nawada area on Friday. The liquor cases containing 1,356 bottles worth about Rs 20 lakh were found in a closed house in the Nawada area and the police suspect that the liquor was kept there to be supplied to Haridwar in view of the Panchayat elections.
The Dehradun Senior Superintendent of Police (SSP) Daleep Singh Kunwar informed the media persons on Friday that the police decided to raid a house in Haripur after getting information about illicit liquor from informers. He said that when the police team reached the location, the house was closed but the lights were on inside the house. The police broke the lock of the main gate with the help of local public representatives to get into the house and found 113 cases of illicit Indian-Made Foreign Liquor (IMFL). He said that a large quantity of labels of various IMFL brands and stickers of 'For Sale in CSD Only' have also been recovered from the house. "We are working on identifying the owner of the house. The owner and transporter of these illicit liquor cases will also be arrested soon," said the SSP. He said, "Certain names have come up during the investigation which cannot be revealed at present. There is also a strong possibility of gang involvement in this matter. We have also got to know that the seized liquor cases were purportedly meant to be supplied to Haridwar in view of the Panchayat elections but nothing can be confirmed yet.
The police will also look whether this matter is connected with the recent raid of illicit liquor in Majra Mafi area nearby by the Excise department. We are investigating the matter from each angle," he said. The SSP further said that considering the house, it appears that the seized liquor was brought from Punjab and Haryana at cheaper prices and the smugglers here were possibly adulterating the liquor to sell it at higher prices using new labels and packaging. The police will send the samples of the recovered liquor to check whether contamination level in liquor, he added. The SSP has also announced to reward the police team involved in the raid with Rs 10,000 for their outstanding work.