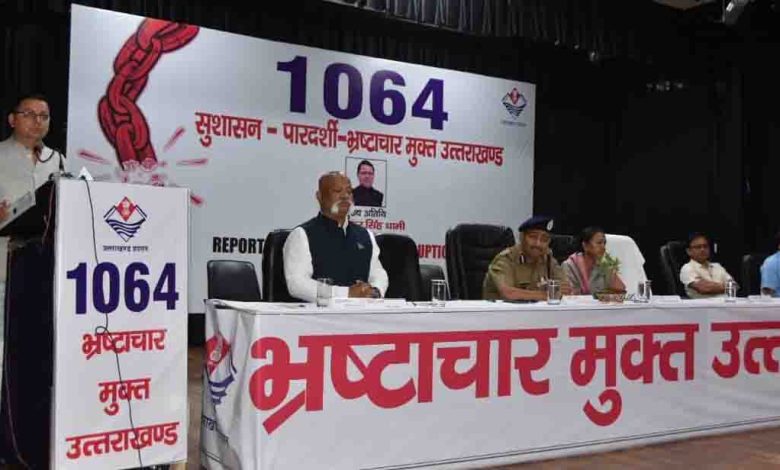 Thursday, 04 August 2022 | PNS | Dehradun
Announces setting up of Rs 2 crore revolving fund to strengthen Vigilance Dept in State
Chief minister Pushkar Singh Dhami said that the government is aiming to make Uttarakhand free of corruption by 2025. Further, the Uttarakhand government has decided to strengthen the Vigilance department with a revolving fund of Rs two crore. This declaration was made by the chief minister while participating in a programme on good governance, transparent and corruption-free Uttarakhand organised here on Wednesday. He said that the Vigilance department in the State would be strengthened and its infrastructure and other activities would be improved. Dhami said that the employees of the Vigilance department doing appreciable work would be rewarded. He felicitated four whistleblowers in the programme.
Reiterating his commitment of his government for a corruption-free Devbhoomi, the CM said that he has undertaken a task to make the state free of corruption and drugs by the year 2025. He said that all departments of the State should work in synergy with the Vigilance for achieving the objective of corruption free Uttarakhand. Dhami said that those working with honesty should not be afraid of anything.
He informed that about 5,000 complaints have so far been registered in the corruption-free Uttarakhand- 1064 app since its launch. The CM said that Vigilance is actively working on the complaints of corruption received on the app. He said that complaints not associated with corruption, received on the app are being transferred to the CM helpline. Appreciating the Vigilance department, the CM said that it is actively working with the mantra of simplification, solution, disposal and satisfaction.
The additional chief secretary Radha Raturi, director general of police (DGP) Ashok Kumar, principal secretary R K Sudhanshu, special principal secretary Abhinav Kumar, Vigilance director Amit Sinha and others were present on the occasion.