Breaking News
Dhami meets Shah & Vaishnaw, seeks boost to development projects, central assistance for U'khand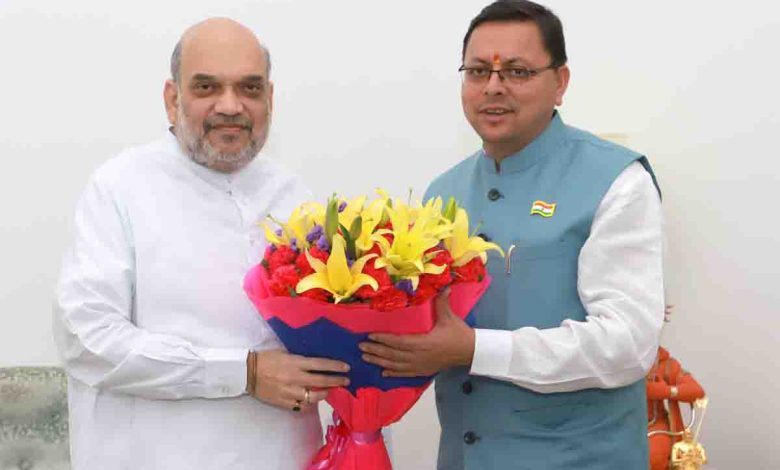 Sunday, 07 August 2022 | PNS | Dehradun
Chief minister Pushkar Singh Dhami met the Union Home minister Amit Shah and Railways, Communication and Information Technology minister Ashwini Vaishnaw in New Delhi on Saturday. In the meeting with the Union Home and Cooperatives minister Shah, the CM requested that the Central government's contribution for the Primary Agricultural Credit Societies (PACS) should be increased from the current allocation of Rs 50,000 per PACS. He said that Uttarakhand is a leading state in computerisation of PACS and recently 108 PACS have become online and remaining 502 would be made online in next six months. Dhami requested that the predominantly mountainous state should be given central assistance in the ratio of 90:10.
Dhami also requested Shah that the annual grant given to Uttarakhand in the police modernisation scheme should be increased from existing Rs five crore to Rs 20 crore. He said that till the year 2014-15, the State used to get Rs 13 crore per year under this head but after that the amount was decreased to Rs five crore. The CM also demanded a sum of Rs 25 crore under Nirbhaya fund for the State. He said that a sum of Rs 33 crore should be given to the State for construction of buildings of 11 police posts under Border Area Development Project (BADP), Rs eight crore for strengthening cyber laboratory under the 'cyber crime prevention and children scheme'. The CM also demanded a package of Rs 50 crore for increasing the percentage of housing facilities from existing 18 per cent to 25 per cent of policemen.
In the meeting with the CM of Uttarakhand, the Union Railways and Communication minister Ashwini Vaishnaw approved installation of 1,206 mobile towers in the state. A sum of Rs one crore would be spent on construction of one tower. On his part Dhami also pitched for a new Jan Shatabdi express connecting Tanakpur with Dehradun. He also requested that Uttarakhand should be exempted from payment of a sum of Rs 99.01 crores as its remaining contribution for the Roorkee- Deoband rail project. The state needs to provide 50 per cent of the total project cost and has handed over a sum of Rs 296.67 crore to the Railway ministry.
Dhami said that at present Dehradun- Kathgodam is the only train service that connects Garhwal and Kumaon regions. He said that the proposed Tanakpur- Dehradun Janshatabdi express would provide relief for the people residing near Nepal border and further strengthen the connectivity between Garhwal and Kumaon regions. Dhami also requested for conversion of Tanakpur- Bageshwar narrow gauge line to broad gauge, making Dehradun- Haridwar rail line double lane, modernisation of Harrawala rail station and construction of Kiccha- Khatima rail link. He also requested that necessary steps should be taken to reduce the journey time of Tanakpur- New Delhi Purnagiri Jan Shatabdi express so that it is completed in five to six hours.