Breaking News
Decision on U'khand's share in Tehri dam to be taken soon- Singh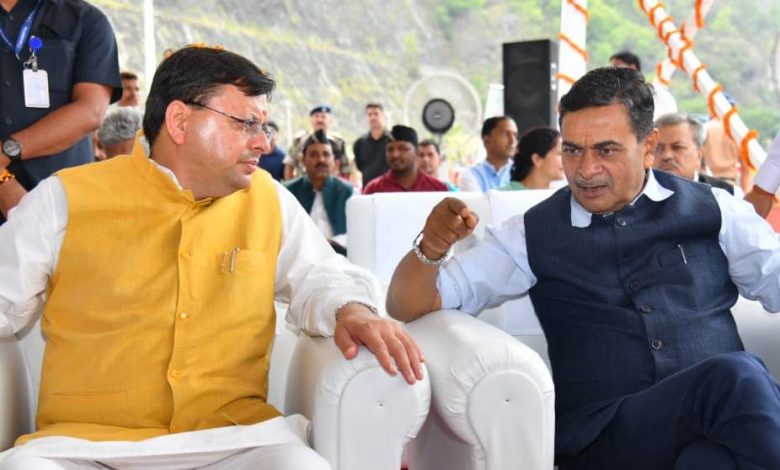 Friday, 27 May 2022 | PNS | Tehri
The Central government will soon take a just decision regarding Uttarakhand's long standing demand for its share in the Tehri dam project. The Union minister for Power and, New and Renewable Energy, RK Singh said this while speaking at a function held at the Tehri dam site after a meeting of the parliamentary consultative committee of the ministry of Power here on Thursday.
Responding to chief minister Pushkar Singh Dhami's statement regarding the State seeking its valid share in the project, Singh said that a justifiable decision will be taken on it soon. Recalling his experience as a bureaucrat, he said that as far as he remembered, there is a provision in the law about the State getting its share of such projects based within its boundaries. Responding to the demand of the local residents, he said that the local residents will be allowed to use the road on the dam structure 24 hours. Singh said, "Climate change and environmental concerns have made hydro power all the more important as a clean source of energy. States with more potential for hydro power will be at a greater advantage in the future as already seen in States like Himachal Pradesh and Sikkim. Hydro power is a major means of raising the per capita income and its economic stature. Uttarakhand has major potential and by harnessing its green energy sources to full capacity it can raise its per capita income by three to four times.
Chief minister Pushkar Singh Dhami recalled the history of the Tehri dam project and the various challenges faced in its construction. He said that Uttarakhand's share in the project is still going to Uttar Pradesh, which is an issue which should be resolved amicably outside the court. He also spoke about the State's journey in hydro power projects from the Gologi power plant built in the colonial era to the planned Pancheshwar dam project to be constructed with Nepal on the Mahakali river
A special screening of the short film 'Journey of Tehri Dam' was also held on the occasion, describing the journey of the project from its conception, initial stages, challenges to the technical achievements and present state on the occasion.
Earlier, THDC India Limited chairman and managing director, Rajeev Vishnoi spoke about the various aspects of the Tehri dam.
Earlier, the meeting attended by Singh and Union minister of State for Power and Heavy Industries, Krishan Pal along with members of parliament and senior officials of Ministry of Power and central power sector PSUs was followed by a visit to the operational Tehri HPP (1000 MW) and under construction Tehri PSP (1000MW).