Top Stories
Congress steps up campaign in Champawat by election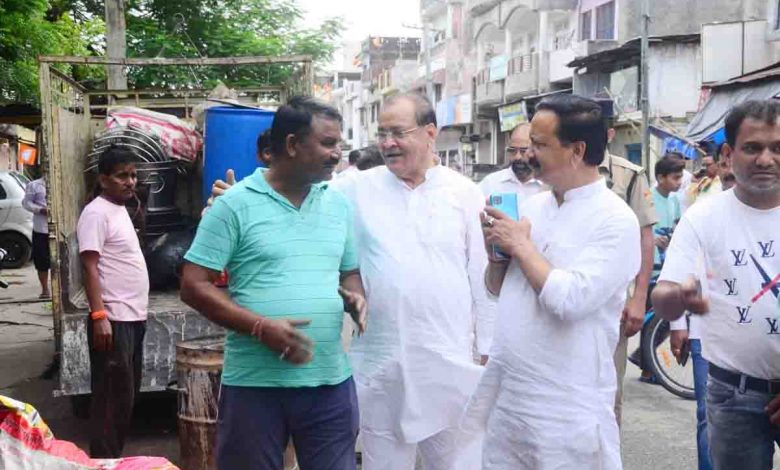 Karan Mahara, Yashpal Arya take out foot march; Harish Rawat starts campaigning for Gehtodi
Tuesday, 24 May 2022 | PNS | Dehradun
Even as chief minister and Bharatiya Janata Party candidate Pushkar Singh Dhami is interacting with the public and addressing gatherings in different parts of Champawat, the Congress has stepped up its campaign in the Champawat Assembly by-election. On Monday, the Pradesh Congress Committee (PCC) president Karan Mahara and leader of opposition (LoP) Yashpal Arya took out a foot march in the Tanakpur market and asked people to vote for the Congress party candidate Nirmala Gehtodi. The deputy leader of Congress Legislature Party (CLP) Bhuwan Kapdi and former MLA Hemesh Kharkwal and other leaders also accompanied the PCC president and LoP during the Yatra. Former chief minister and member of Congress Working Committee (CWC) Harish Rawat started campaigning in favour of the Congress candidate in Champawat from Monday afternoon. Rawat would now camp in Champawat till May 28.
Meanwhile the in-charge of Uttarakhand Congress Devendra Yadav would plunge himself in the election campaign from Tuesday. He would arrive in Champawat on May 24 and camp there for three days.
The Congress candidate Nirmala Gehtodi is facing an uphill task in Champawat since CM Dhami is the BJP candidate from the seat. Dhami along with the previous MLA Kailash Gehtodi and others is addressing public gatherings and interacting with people in different parts of the constituency. For Dhami the by-election is very important for his political career and to retain his position as CM of the state. He had lost the Assembly election from his traditional Khatima seat. Dhami was defeated by Bhuwan Kapdi of Congress party. Though Dhami lost the election his party was able to secure a two-third majority in the state assembly and the central leadership of BJP reposed its faith on him by appointing him the CM for second consecutive term. BJP MLA from Champawat Kailash Gehtodi vacated his seat for Dhami. The voting for Champawat by elections would be held on May 31 while the counting of votes would be on June 3 and the result would be declared on the same day.