Top Stories
Congress protests across State against Agnipath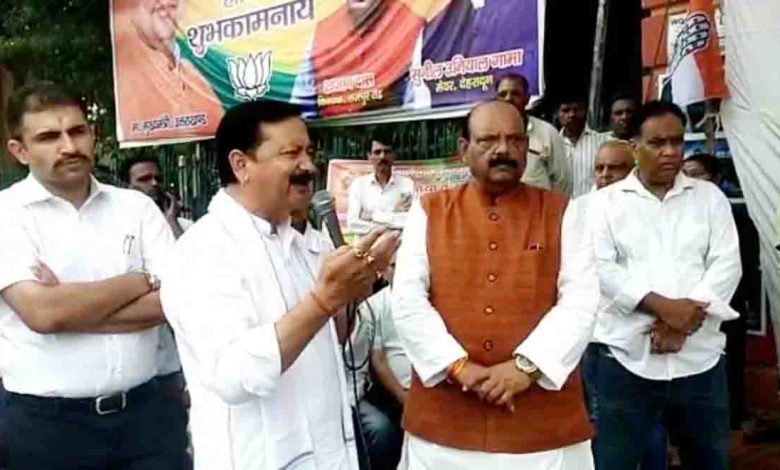 Tuesday, 28 June 2022 | PNS | Dehradun
Scheme detrimental to national security, cruel joke on youngsters- Mahara
In protest against the Agnipath scheme for recruitment in the armed forces, the Uttarakhand Congress organised state-wide protest and Satyagrah in different parts of the state on Monday. On the call given by the Pradesh Congress Committee (PCC) president Karan Mahara, the Congress leaders and workers held protests in all 70 assembly constituencies. The PCC president himself participated in a protest held at Gandhi Park near the office of Uttarakhand Congress falling under the Rajpur assembly constituency. Large number of Congressmen took part in the protest. Terming the Agnipath scheme detrimental for the security of the country and a cruel joke on the youngsters dreaming to serve the nation by joining the armed forces of the country, Mahara demanded that the Narendra Modi government should immediately withdraw the scheme. He said that it takes at least six to seven years for a new recruit to become a trained and professional soldier but now under the Agnipath scheme a young boy barely 17 or 18 years old would be thrown before the enemy's tank and guns with only a training of six months. "A professional soldier is prepared for supreme sacrifice for the country because he knows that his family would get complete financial security. Would an Agniveer with no pension and other benefits be able to fight with the same zeal?'' he questioned.
" It is really strange that a person who calls himself a Chowkidar of the nation is 72 years old but a Fauzi would retire at an age of only 21 years with no pension and other benefits,'' he quipped.
The PCC president said that the experts have raised apprehension that the man who is forcibly retired with any financial security can get frustrated and get misguided by some mischievous forces and thus become a threat to internal security.
Former PCC president Pritam Singh led a protest in Kalsi of Chakrata assembly constituency. He said that the Agnipath scheme is forcibly being foisted on the youngsters reeling under unemployment. He said that the Modi government has brought in three amendments in the Agnipath scheme so far but it would have to roll back the scheme.
In Dehradun cantonment assembly constituency the Congress workers held a protest and burned an effigy of the government at Ballupur Chowk. The Vice President of Uttarakhand Congress Surya Kant Dhasmana said that the Agnipath scheme is a fraud with the youth and compromises the security of the country.