State
Congress kick-starts Bharat Jodo Yatra on August Kranti Diwas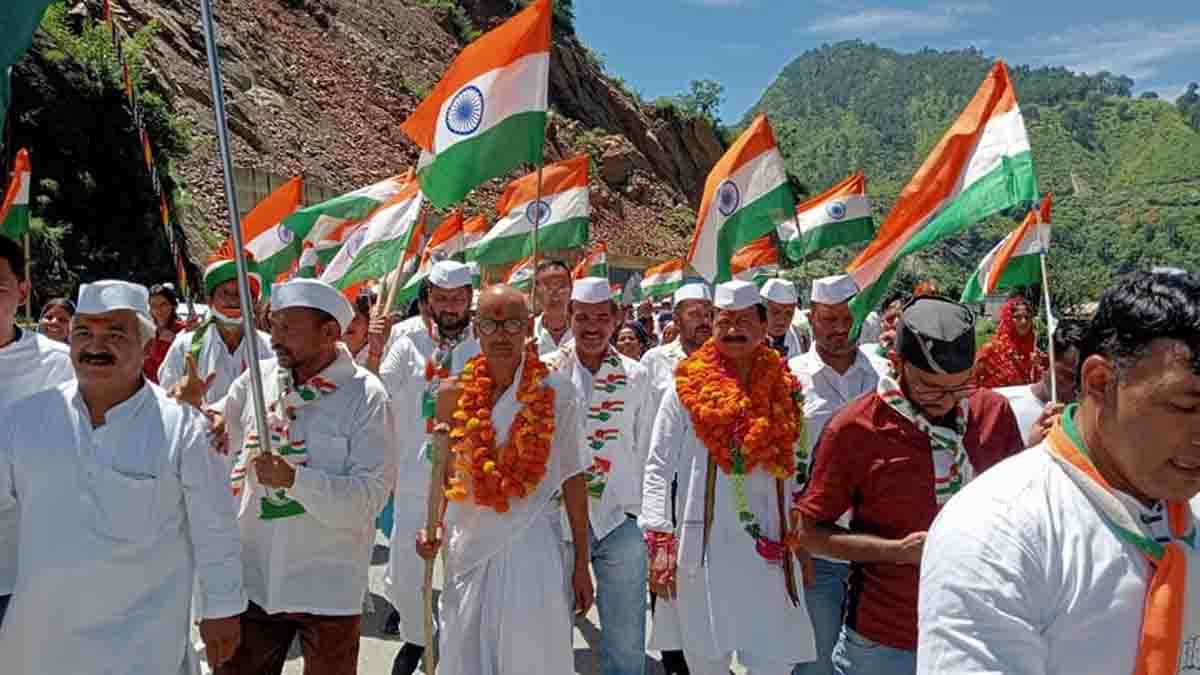 Wednesday, 10 August 2022 | PNS | Dehradun
The Yatra would cover all assembly constituencies and would end on August 15
On the occasion of the August Kranti Diwas, the Uttarakhand Congress started its Bharat Joddo Tiranga Yatra in different parts of the state on Tuesday. The Pradesh Congress Committee (PCC) president Karan Mahara formally started the Yatra at Gulabrai ground in Rudraprayag.
The leader of opposition (LoP) in Uttarakhand assembly Yashpal Arya started the Tiranga Yatra from Swaraj Ashram in Haldwani while the former chief minister and member of Congress Working Committee (CWC) Harish Rawat in Haridwar rural, former PCC president Pritam Singh from Tyuni of Chakrata, former PCC president Ganesh Godiyal from Rishikesh, former minister Navprabhat from Tilak Bhawan in Vikasnagar, former minister Surendra Singh Negi from Kotdwar and state convenor of the Bharat Joddo Tiranga Yatra Govind Singh Kunjwal started the Yatra in Jainti Salam in Almora on the day.
The Vice President (organisation) of Uttarakhand Congress Mathura Dutt Joshi said that the in charge of Uttarakhand Congress Devendra Yadav would participate in the Yatra on August 10 and 11 in different assembly constituencies of Udham Singh Nagar district. Joshi informed that the Yatra is being organised on the occasion of 75 years of the independence of the country and would end on August 15.
The Yatra is being organised in all parts of the country by the Congress party and a resolution for it was passed in the Udaipur convention of the party.
Joshi added that all the MLAs, former MLAs, all the candidates of the party in the assembly elections and the Lok Sabha elections would participate and lead the Yatra in their respective constituencies.
Addressing the party workers on the eve of the August Kranti day in Rudraprayag on Monday, the PCC president Karan Mahara said that 80 years ago Mahatma Gandhi had given a slogan of ' Do or die' on this day and on his call the Congress workers had plunged themselves in the freedom struggle. He said that the Congress party has decided to hold a minimum 75 km of Yatra in every district on the occasion of 75 years of independence of the country. Mahara said that the brotherhood and integrity of the country and its various institutions are in peril due to the decisions of a government which is ruled by a party that has originated from one ideology.
Taking a dig at the Har Ghar Tiranga campaign of the BJP, the PCC president said that the BJP has taken up the campaign to divert the attention of the people from the price rise and unemployment. Claiming that an undisclosed emergency is imposed in the country, the PCC president exhorted the Congress workers to get ready for a protracted struggle. He said that it has now become a compulsion of BJP to come under the Tiranga and stand behind Gandhi.
The president of Rudraprayag unit of party Ishwar Prasad Bisht, former MLA Manoj Rawat, Pradeep Thapliyal and others were present on the occasion.