Top Stories
Congress demands CBI probe in Ankita Bhandari murder case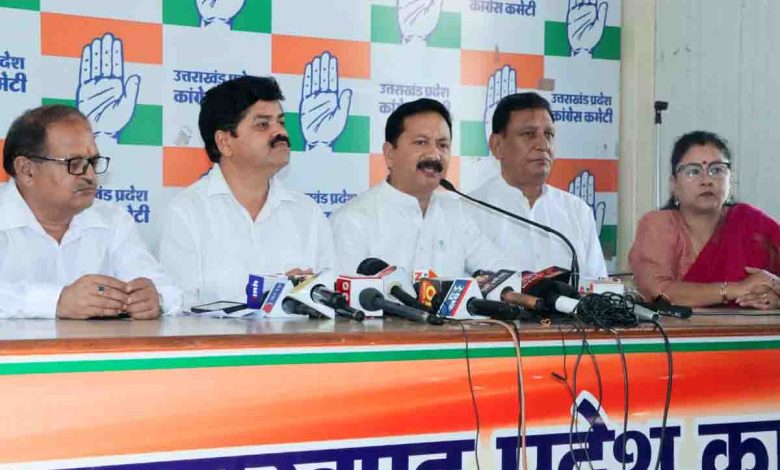 Tuesday 27 September 2022 | PNS | DEHRADUN
Accusing the State government of trying to shield the culprits in the Ankita Bhandari murder case, the Uttarakhand Congress has demanded that the high profile case should be handed over to the Central Bureau of Investigation (CBI).
Addressing the media persons at Rajiv Bhawan here on Monday, the Pradesh Congress Committee (PCC) president Karan Mahara said that it is shocking that the Investigating Officer (IO) in the Ankita Bhandari murder case did not seek police remand of Pulkit Arya and other accused. He also put a question mark on the demolition of the resort of Arya and the fire incident in the property and said that both these incidents give credence to the suspicion that the evidence is being destroyed to protect the culprits of the heinous crime. Mahara said that on one hand the chief minister is claiming that a bulldozer was used to demolish the resort on the other hand the district magistrate of Pauri is stating that no such order was issued. He said that it is unfortunate that the father of Ankita Bhandari shuttled from one police station to another to register the case. The former PCC president Ganesh Godiyal said that the chats of Ankita Bhandari reveal that she was being pressured to provide 'extra service' to a VIP scheduled to visit the resort on Monday. He said that the State government and police should reveal the identity of this VIP. "I request the CM to take initiative and reveal who this VIP was. I would welcome the CM personally if he does this,'' he said.
Godiyal added that it is apparent that the government is trying to shield the culprits and the people of the State have understood the nefarious designs in the case. He said that instead of using bulldozers on other properties owned by the Arya family it was used to demolish the room of Ankita in an attempt to destroy evidence. On an emotional note the former PCC president warned that the government should not play with the sentiments of the people of the state. He appealed that all the social organisations, general public and civil society should come on one forum and put pressure on the government to ensure that the culprits are punished.
The Dwarahat MLA Madan Singh Bisht said that the Congress party is with the family of Ankita Bhandari and would provide every possible help to it. He said that the Congress workers would continue to agitate till justice is delivered to the daughter of the State.
The vice president of Uttarakhand Congress Mathura Dutt Joshi, the chief spokesperson of state Congress Garima Dasauni and Navin Joshi were present on the occasion.