State
Cong offers prayers at Shiva temples for better sense to State govt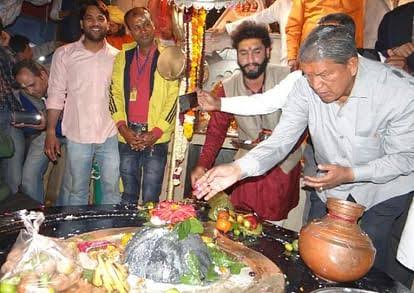 Sunday, 19 February 2023 | PNS | DEHRADUN
The leaders and workers of Uttarakhand Congress registered their protest for policies of the State government by offering prayers at the temples of Lord Shiva on the occasion of Mahashivratri on Saturday. The Pradesh Congress Committee (PCC) president Karan Mahara had given a call to the party workers to offer prayers in Shiva temples for better sense to prevail on the State government. The vice president of Uttarakhand Congress Surya Kant Dhasmana and party workers held prayers at Shiv Kali temple in the Basant Vihar of Dehradun on the day.
The party workers led by the Mahanagar president, Jasvinder Singh Gogi held prayers at Panchayati temple and did Jalabhishek for better sense to prevail on the State government. Speaking on the occasion said that the manner in which the BJP government used brutal force on the unarmed unemployed was very deplorable. He said that the series of the recruitment scams in the State have exposed the BJP government. Gogi said that the prices are at an all time high while the economy is at its lowest in the country under the BJP rule. He alleges that the public property and assets of the country are being sold to the favourite businessmen and in order to hide its failures, the BJP government is engaging in politics of division. The Mahanagar president said that the BJP government has only cheated the people in the name of development and the Congress party would continue to expose the failures of the government.
The chief spokesperson of State Congress Garima Dasauni said that the prayers were offered for better sense to prevail over the government so that the name of the VIP involved in the murder of Ankita Bhandari is disclosed and a Central Bureau of Investigation (CBI) inquiry is ordered in the paper leak cases.
Sheeshpal Bisht, Anuradha Tiwari, block president Jitendra Taneja, Manish Verma and others were present on the occasion.