Uncategorized
Congress holds protest outside Vidhan Sabha on recruitment scam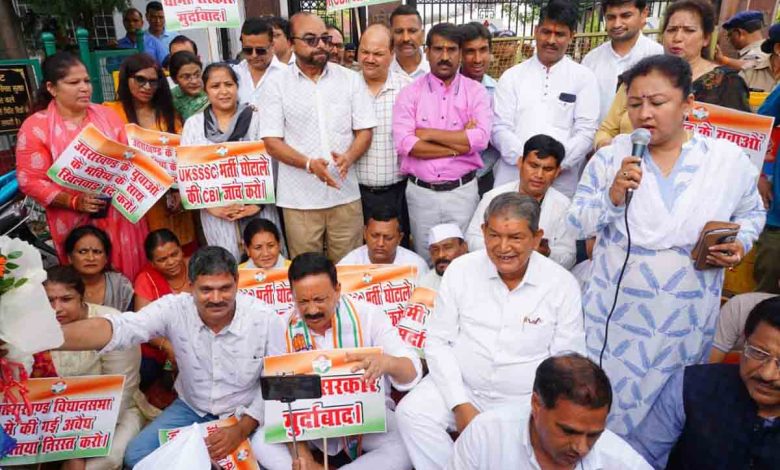 Saturday, 03 September 2022 | PNS | Dehradun
On the call given by the former cabinet minister and Badrinath MLA Rajendra Bhandari, the Uttarakhand Congress held a protest at the Uttarakhand Vidhan Sabha on Friday. Senior Congress leaders including the Pradesh Congress Committee (PCC) president Karan Mahara, former chief minister Harish Rawat and former PCC president Ganesh Godiyal participated in the protest.
Addressing the protesters, Bhandari said that the recruitment scams have exposed the real character of the BJP and showed the people the party responsible for weakening the State. Former CM Harish Rawat said that in an attempt to divert the public attention the BJP is trying to pull Congress party in the scams. He demanded that a sitting judge of the High Court should be appointed to investigate all the recruitments.
Terming the decision of State government to suspend the former secretary of Uttarakhand Subordinate Services Selection Commission (UKSSSC) as a desperate cover up exercise, the PCC president Karan Mahara said that Congress would continue to agitate on the recruitment scams till the real culprits are apprehended. He said that the small fishes are being labelled as masterminds to save the big crocodiles. Mahara said that all the ministers found involved in the scams and in providing jobs to their relatives in Vidhan Sabha should be removed. He said that the youngsters of the State are feeling themselves cheated. Former PCC president Godiyal said that the BJP has shredded the faith of the people of the state.
The spokesperson of Uttarakhand Congress Garima Dasauni said that the scams in recruitments and appointments of favour in Vidhan Sabha has m disgraced Uttarakhand. She said that not only BJP but RSS too has got exposed by these scams. The vice presidents Mathura Dutt Joshi, Surya Kant Dhasmana, general secretary (organisation) Vijay Saraswat, president of NSUI Mohan Bhandari and others attended the protest.