Breaking News
CM seeks green bonus, raises various issues in NITI Aayog meeting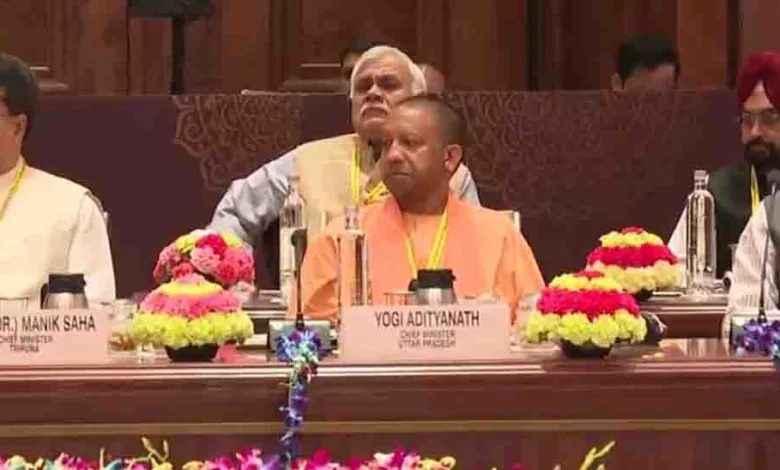 Sunday, 28 May 2023 | PNS | DEHRADUN
Chief minister Pushkar Singh Dhami raised various issues of the State ranging from green bonus to floating population while attending the eighth meeting of the NITI Aayog governing council presided over by Prime Minister Narendra Modi in New Delhi on Saturday. He also thanked Modi and the Centre for guidance and assistance for development works in Uttarakhand.
Dhami said that by protecting forests, meadows and glaciers covering Uttarakhand's 70 per cent area, the State is providing vital environmental services to the nation. According to a study by IIFM Bhopal, the value of these environmental services is about Rs 95,000 crore per year. He requested that the standards for these forests and environmental services should be raised for allocation of resources among States in the future. Uttarakhand should be provided a green bonus till this system is not implemented, he said. Referring to the floating population he said that a large number of people visit Uttarakhand for Char Dham Yatra and Kanwad Yatra in addition to the tourists. This floating population is six times more than the State's population. The State has to manage infrastructural facilities for the pilgrims and tourists with its limited resources. This important fact should be considered in allocation of financial resources and framing of policies, Dhami said.
He further said that there are 11 externally aided projects worth about Rs 19,000 crore in the pipeline for Uttarakhand. The NITI Aayog, DEA and ministries concerned have approved these along with approval in principle granted by the funding agencies. Due to its limited financial resources, Uttarakhand depends mainly on EAP and CSS but a ceiling has been placed on these for Uttarakhand and Himachal Pradesh as ordered by the Finance ministry. Stating that restrictions on such projects are hampering livelihood opportunities and development of infrastructure in the State, Dhami requested PM Modi to facilitate a proper solution to this situation. Regarding the power sector, he said that the State has capacity to generate 3,500 Megawatts from small and micro hydro power projects alone but is generating only 200 MW. He requested that the State government should be authorised to approve hydro power projects less than 25 MW in capacity. This will enable the State to exploit 300 MW electricity capacity. The CM further said that considerable funds are needed to implement the ambitious river linking project under which the State government is thinking about linking some glacial and rain-fed rivers. He requested that the State should be provided special financial assistance and technical assistance from the Centre for this purpose. Dhami said that most Centrally funded schemes are made on the 'one-size fits all' principle which are not according to the specific conditions and requirements of the State. At the same time there are schemes like the Rashtriya Krishi Vikas Yojana which are adequately flexible which provides freedom to work according to special requirements. Similar flexibility should be adopted for other centrally funded schemes so that mountain States like Uttarakhand can derive the maximum benefit from such schemes, he said. The CM also raised other issues including those related to the industrial sector, infrastructure and reconstruction works being undertaken in the State.