Breaking News
CM meets parents of Chhawla gangrape-murder victim, assures full support in ensuring justice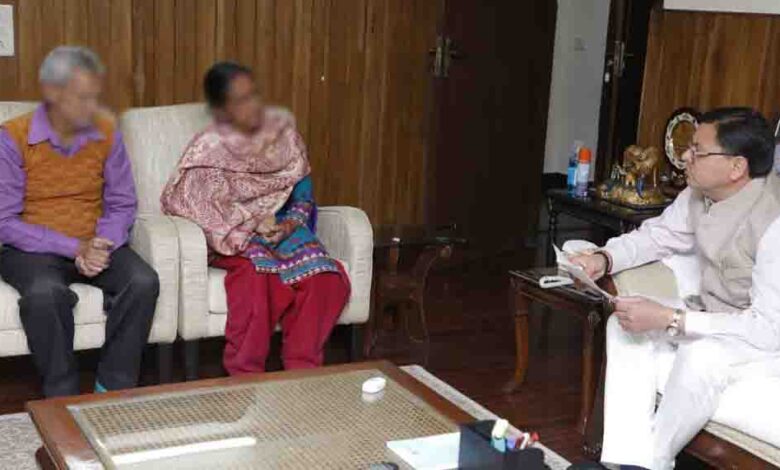 Monday, 21 November 2022 | PNS | DEHRADUN
Chief minister Pushkar Singh Dhami met the parents of the Chhawla gangrape and murder victim in New Delhi and assured them that the State government is making all possible effort to ensure justice for the victim. Interacting with the parents of the victim, Dhami said that he had talked to the Union Law minister Kiren Rijiju regarding the case and had also sought all relevant information from the advocate handling the case in the Supreme Court, Charu Khanna. The whole of Uttarakhand stands in support with them in this case, said the chief minister.
It will be recalled that Dhami had a telephonic conversation with the victim's parents in the recent past and had told them that he would soon meet them in Delhi. The meeting between him and the victim's parents at Uttarakhand Sadan on Sunday was a follow up of their last conversation.
It will be recalled that after a long legal battle, the Supreme Court had recently acquitted the three men accused in the case reversing the death penalty awarded by a trial court and upheld by the Delhi High Court.
On November 7 the Supreme Court had acquitted the trio sentenced to death for the gangrape and murder of a 19-year-old woman hailing from Uttarakhand, in Delhi's Chhawla area in 2012. The three men were accused of abducting, gangraping and brutally killing the woman in February 2012. Her mutilated body was found three days after she was abducted. The SC had noted that the prosecution had failed to provide leading, cogent, clinching and clear evidence, including those related to DNA profiling and call detail records against the accused. Earlier, a trial court had in 2014 awarded the death penalty to the three accused, terming the case as "rarest of rare". The judgement was later upheld by the Delhi High Court.