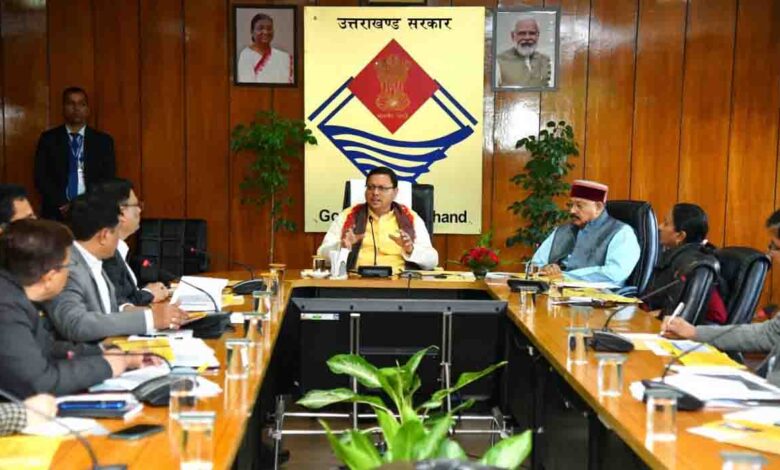 Friday, 18 November 2022 | PNS | DEHRADUN
In a major decision, chief minister Pushkar Singh Dhami has directed that the meetings of the State Cabinet should be held in the villages. The government would also launch the 'Mukhyamantri Paryavaran Mitra' scheme in Uttarakhand in an attempt to encourage sanitation and cleanliness in the villages. Under the scheme, one sanitation worker would be deployed in every village of the State. Dhami gave the above directives during his meeting with the officers of the Panchayati Raj department in the State secretariat on Thursday. He said that the Mukhyamantri Chaupal scheme would be launched under which he would take part and stay in the village during the night. He directed that the foundation day programmes of the Gram Sabhas should be organized in the villages.
He said that the officers and the public representatives would take part in the Chaupals and for it, a village-wise roster would be made. Dhami said that a plan for the development of the village would be prepared on the basis of the suggestions received from the Chaupals. He said that the real India resides in villages and special emphasis on the development of the villages should be done for the all-around development of the State. He said that the officers should focus on setting up model villages in the State and for it a master plan should be prepared. The CM opined that short-term and long-term targets should be set up for rural development. He suggested that the best practices of other States should be studied and implemented if found suitable.
 The Panchayati Raj minister Satpal Maharaj said that effective efforts should be made to strengthen the economy of the villages. He said that the village Pradhans should be given Rs 10,000 as a disaster fund.
The additional chief secretary Radha Raturi, secretary Nitesh Jha, director of Panchayati Raj Banshidhar Tiwari, and others were present on occasion.