Breaking News
CM Dhami seeks central assistance for Joshimath disaster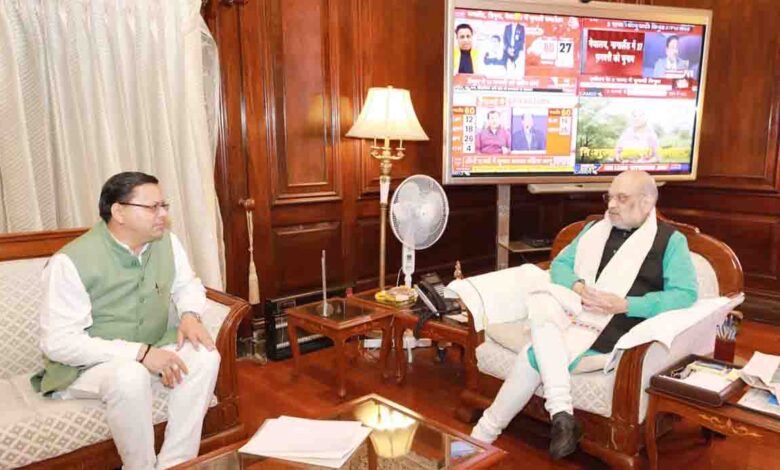 Meets union home minister Amit Shah in Delhi
Thursday, 19 January 2023 | PNS | DEHRADUN
Chief Minister Pushkar Singh Dhami has requested central assistance for the disaster relief and rehabilitation operations in Joshimath city affected by continued land subsidence. This request was made by the CM during his meeting with the union home minister Amit Shah in New Delhi on Wednesday. He told Shah that the different central technical institutes in their preliminary findings are of the view that large-scale reconstruction works would be needed in Joshimath and its final estimation would be available only after assessing the final reports of these institutes.  In the meeting, the CM gave a detailed account of the Joshimath land subsidence. He said Joshimath is the Tehsil headquarter and winter abode of Lord Badrinath.
The city has religious, cultural, tourism, and strategic importance. Dhami told Shah that the city is situated over an old landslide. Though the area has a long history of buildings having cracks, they widened from the night of January 2 this year and water discharge of 500 liters per minute (LPM) occurred in the JP plant.
The CM said that as of now 25 percent of the city area is affected by land subsidence. Major cracks have been visible in 849 out of 4500 buildings. Dhami also informed about the relief and rehabilitation works undertaken by the government in Joshimath. He said that four out of nine wards in the city are completely affected by land subsidence and the State government has earmarked five places for the rehabilitation of the affected families.
The CM told Shah that eight central institutes are doing scientific investigations in Joshimath. He said that the District Magistrate (DM) of Chamoli, the Garhwal commissioner, and other senior officers have been asked to camp in Joshimath.
 The CM sought central help for setting up relief camps, prefabricated transit shelters, permanent rehabilitation, new area development, construction of houses, setting up infrastructure facilities such as schools, colleges, drainage, sewerages, technical investigation, prevention of landslide, drainage, and other works. On his part, Shah assured necessary help for the affected people of Joshimath.