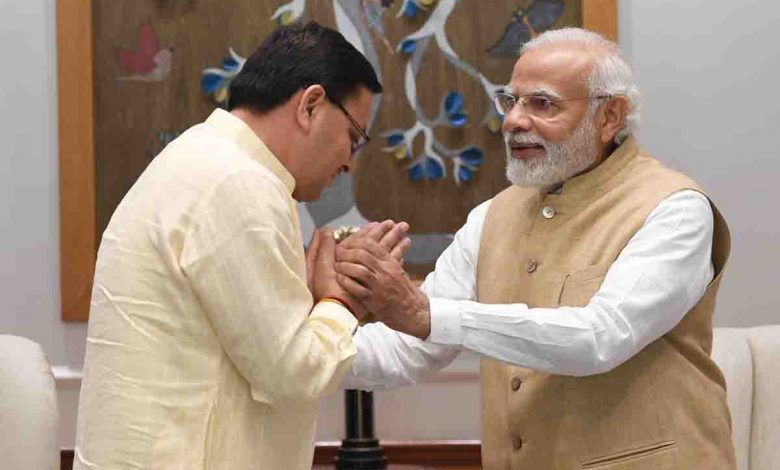 Friday, 24 June 2022 | PNS | Dehradun
Requests PM for extension of GST compensation, State's share in THDC, Pithoragarh airstrip & Manaskhand Mandir mission approval
The chief minister Pushkar Singh Dhami met Prime Minister Narendra Modi in Delhi on Thursday. Many important issues such as GST compensation and share holdings of the THDC India limited came up for discussion between the two leaders in the meeting. Dhami expressed gratitude for the cooperation of the Union government for development of the State. He requested that the GST compensation for the States which is ending in June should be extended. He also sought the cooperation of the Union government for transfer of 25 per cent holding of Uttar Pradesh in THDC India Limited to Uttarakhand. Dhami also requested for setting up a branch of National Pharmaceutical Education and Research Institute (NPERI) in Uttarakhand, approval for the Manaskhand Mandir Mala mission for  linking the old temples of Kumaon region and operation of air services from Pithoragarh airstrip.  
The CM said that Uttarakhand has a share of 20 per cent in the country's pharma market and more than one lakh people are employed in more than 300 pharmaceutical units in the state. He said that setting up a branch of NPERI in the state would give an impetus to research in the field.
Pitching in the plea of the state for extension of GST compensation he said that structural changes, minimal usage base, insufficient base of service in the state are some of the reasons due to which expected increase in the GST collection has not been achieved so the state should continue to receive the GST compensation from the centre which is ending in June this year.
He told the PM that in THDC India Limited the government of India has a holding of 75 per cent while UP's share is 25 per cent. Dhami said that as per the provisions of the UP reorganisation act 2000, the holding of UP should be transferred to Uttarakhand since the project is based in the state only. Uttarakhand also faces the challenges of the rehabilitation, law and order, environment and social issues of the project.
Putting up the case of the Pithoragarh air strip, the CM said that the process of the tender for the airstrip in the border district is complete. He requested that approval for commencement of the air services from the air strip should be given.
Dhami said that the Kedarnath and Badrinath shrines are being developed as per the master plan under the guidance of Prime Minister Narendra Modi. He requested that the approval for the ' Manaskhand Mandir Mala' mission should be given under which the temples of Kumaon region would be connected on the lines of Char Dhams. He assured that Uttarakhand would be among the leading states of the country as per the wish of PM Modi in the year 2025. Dhami requested the PM to visit the Mayawati Ashram located in Lohaghat.