Breaking News
CM Dhami flags off Acharya Balkrishna led expedition to Raktvarn Glacier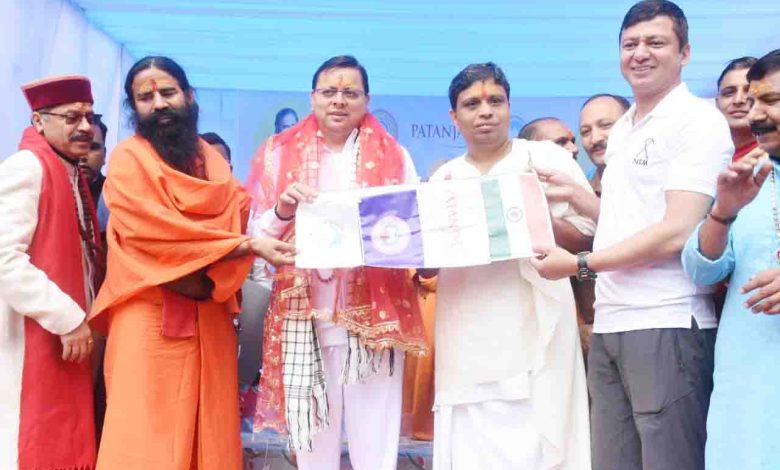 Thursday, 15 September 2022 | PNS | DEHRADUN
Chief Minister Pushkar Singh Dhami flagged off a joint expedition of Pantanjali Ayurved, Nehru Institute of Mountaineering (NIM) and Indian Mountaineering Foundation (IMF) to Raktvarn glacier and three other mountain summits in a programme organised at Gangotri, Uttarkashi on Wednesday. The CM also trekked with the team for about one kilometre. He also offered prayers at the Gangotri temple and sought blessings from River Ganga. Speaking on the occasion, the CM said that the joint expedition would prove to be a milestone for Uttarakhand and the country. He expressed confidence that new herbs and medicinal plants would be discovered by the team. CM said that India has taught the importance of Yoga and Ayurveda to the whole world. He said that his government has taken a pledge to make Uttarakhand the cultural and spiritual capital of the world under the leadership of Prime Minister Narendra Modi. Dhami said that during his visit to Kedarnath PM Modi had said that the third decade of the 21st century would belong to Uttarakhand and every possible effort is being made to fulfil this dream of PM. He said that about four crore Kanwadias and 32 Lakh Char Dham Yatras visited the state this year.
Yog Guru Baba Ramdev said that Patanjali is working shoulder to shoulder with the State government to ensure that Uttarakhand leads the world in the field of Ayurveda. He said that an investment of Rs one thousand crore would be made by Patanjali. Ramdev said that the development of a young state like Uttarakhand can be done only by a youthful CM. Ramdev also lauded the fact that Uttarakhand is working in the direction of implementing the common civil code.
Speaking on the occasion, Acharya Balkrishna said that efforts are being made to link nature with our culture with the help of the expedition. Terming the expedition as a research journey, he exuded confidence that herbs and medicinal plants hitherto unknown would be discovered during it.
The district magistrate (DM) of Uttarakashi Abhishek Rohilla, Superintendent of Police (SP) Arpan Yaduvanshi, district panchayat president Deepak Bijalwan and others were present on the occasion.