Breaking News
CM asks revenue dept to follow mantra of simplification, disposal and solution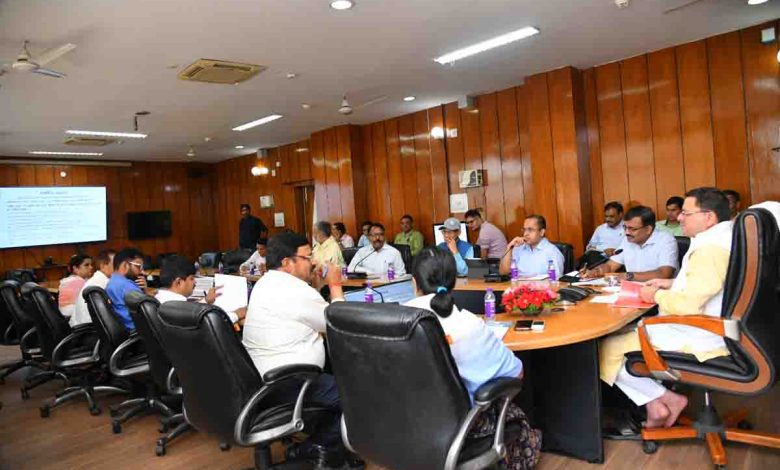 Friday, 29 July 2022 | PNS | Dehradun
Chief Minister Pushkar Singh Dhami has said that the revenue department of the state should work on the mantra of 'simplification, disposal and solution'. While undertaking the review of the department at the state secretariat here on Thursday, he said that the department should hold camps for distribution of land records and Tehsildars should also be given the power to release the domicile certificates. Directing the officers that the revenue council, collectorate and commissioner offices should be connected with the e-office system, the CM said that they should organise multi purpose camps in the remote areas four times in a month. Dhami said that Tehsil days should be regularly organised and villagers should be encouraged for voluntary land consolidation. He said that the work on mutation should be expedited, the archives should be modernised and the system of revenue police should be strengthened. The CM added that the effective monitoring and disposal of the revenue cases should be done.
The CM was informed that 100 per cent target of collection has been given after completion of the process of computerisation of all the heads under which the revenue is levied. The officers said that the department has also taken a target to upload all types of decisions on land acquisition cases on the portal. The CM was informed that the department has taken a target of completing the Swamittwa Yojana before August 15 this year. The officers said that the Panchayati Raj department is doing the survey of the rural areas hitherto un surveyed. The objective of the scheme is to provide ownership rights, construction of houses with help of loans from banks and re construction activities.
The CM was informed that out of 16,686 revenue villages, 14,343 have been notified and 7573 villages have been earmarked for drone surveys. He was told that digitization of all ZA and Non ZA land holdings have been done under the digital India Land record modernisation programme of Government of India. The corporatisation of all 54 sub registrar offices has been completed and modern record rooms have been set up in 77 tehsils. The cadastral maps in Almora and Pauri districts have been digitised and this work would be completed in remaining districts by September 2024.
The additional chief secretary Radha Raturi, ACS Anand Vardhan, secretaries R Meenakshi Sundaram, Shailesh Bagoli, Deependra Chaudhary, S N Pandey and Additional secretary Lalit Mohan Rayal were present on the occasion