Others
Climate change affecting rainfall trends in State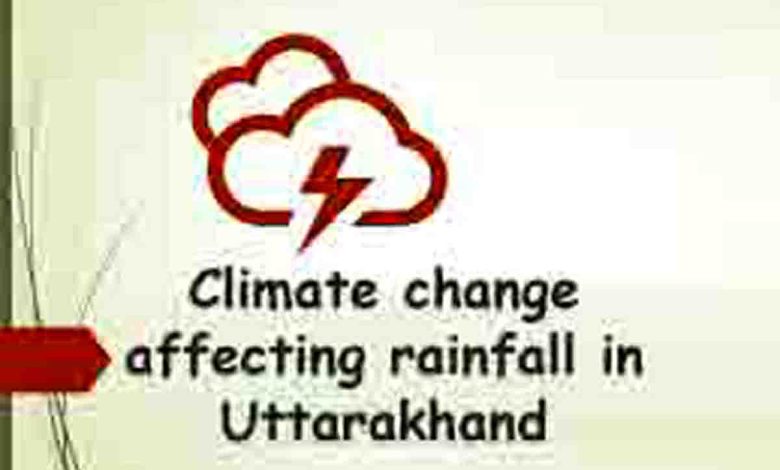 Thursday, 04 August 2022 | Vinod Chamoli | New Tehri
Experts state that altered patterns are causing more soil loss
Global climate change is directly affecting the monsoon rains as being experienced in Uttarakhand. The intense spells of rain lasting a few hours are exacerbating the loss of the fertile topsoil from the mountains. Further, such short bursts of intense showers are not helping recharge the groundwater properly, state experts.
According to meteorological department data, from June 1 to August 2, Uttarakhand had received 546.4 millimetres whereas the quantity should have been about 624 millimetres during this period. Less than normal rainfall has been reported in Nainital, Haridwar, Champawat and Pauri districts during this period. Economist Rajeshwar Painuli states that change in the rainfall pattern is washing away more of the fertile soil even as the groundwater recharging is being affected negatively. Wadia Institute of Himalayan Geology scientist Pankaj Chauhan states that monsoon trends have been altered due to climate change. In the past, there used to be uniform rain- either light or medium- for days at a time, which has changed now. Now there are cases of intense rainfall at isolated places in short durations.
State meteorological centre director Bikram Singh said that along with climate change, some other meteorological factors are causing more rainfall on some particular days while some days are dry without any rainfall. Some districts of the State have so far experienced less than normal rainfall this year, he added.
GB Pant University of Agriculture weather scientist RK Singh said that climate change is responsible for the heavy rainfall and dry spells. The climate change is being caused by factors like cutting of trees, exhaust from vehicles and other local reasons, he said.