Others
City bus operators warn of protests against Transport department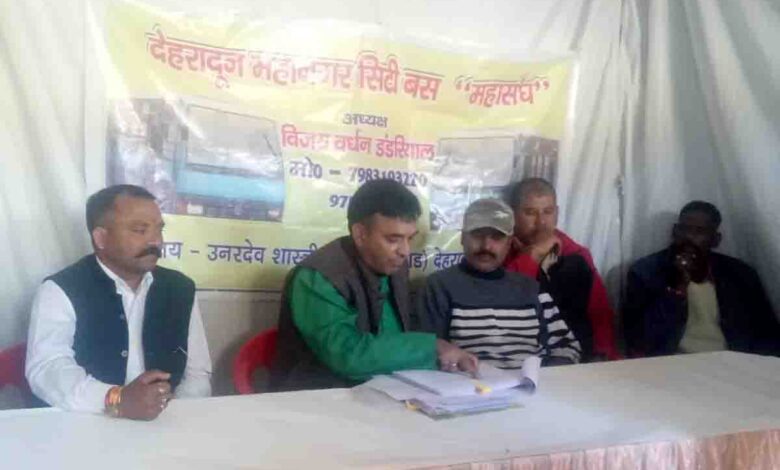 Wednesday, 23 November 2022 | PNS | DEHRADUN
Claiming that the Transport department has decided to ban all types of petrol and diesel-operated public transport vehicles by December 2023 to introduce clean fuel vehicles but has no idea of its execution at ground level, the president of the Dehradun Mahanagar City Bus Seva Mahasangh, Vijay Vardhan Dandriyal said that they will protest against the department in the State Transport Authority (STA) meeting against this plan.
Addressing the media on Tuesday, he said that the Regional Transport Office (RTO) of the Dehradun division has based its order on the order of the National Green Tribunal (NGT) for the National Capital Region (NCR) which is not appropriate considering the difference in both regions. The department expects all vehicle operators to operate clean fuel vehicles without the necessary arrangements for their operation. "There are not enough CNG stations even in the main city areas here. What would the owner of vehicles arriving from mountainous areas to these cities do? Such an unplanned ban will severely affect tourist arrivals and Char Dham Yatra too," said Dandriyal. He said that there are also several other issues like pending loan payments of vehicle operators and what would the department do in case it fails to make sufficient clean fuel stations available. "The elimination should occur in a phased manner. They should have at least involved somebody from among local transport operators before making this decision final to know the ground reality of the issue," said Dandriyal.
Ban to affect only auto rickshaws and Vikrams : RTO
Stating that many are spreading misinformation on the ban of petrol and diesel-operated public transport vehicles by December 2023, the regional transport officer (Administration) Sunil Sharma said on Tuesday that the operation of only auto rickshaws and Vikrams will be banned. He said that the ban will be imposed on the operation of only auto rickshaws and Vikram's older than a decade after March 31 and on the remaining after December 31, 2023. The transport office is not currently planning to ban other vehicles, said Sharma.