Top Stories
Char Dham Yatra to break all past records this year: Maharaj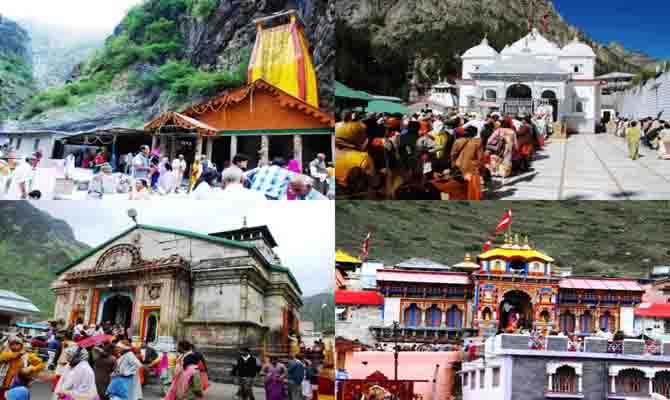 Sunday, 19 March 2023 | PNS | DEHRADUN
4.22 lakh persons have registered for the pilgrimage so far
The consistently rising number of people registering for the Char Dham Yatra and bookings in the Garhwal Mandal Vikas Nigam accommodations show that the Char Dham Yatra this year will break all past records. All the departments concerned should ensure proper arrangements on time so that the visitors do not face any inconvenience, said the Tourism and Culture minister Satpal Maharaj while directing all the departments to remain alert.
The minister said that so far 1,51,955 people have registered for Badrinath, 1,84,057 have registered for Kedarnath, 43,132 for Yamunotri and 43,717 for Gangotri. In addition to this, since February 16, bookings worth Rs 5.07 crore have been done in GMVN guest houses so far.The Char Dham Yatra is slated to begin on April 22. Gangotri and Yamunotri are to be reopened to the public on April 22, Kedarnath on April 25 and Badrinath on April 27. Maharaj directed the Public Works Department, Tourism, Border Roads Organisation, Panchayat, Food and Civil Supplies and Health department among others to ensure all necessary arrangements on the Char Dham routes. The PWD, NH and BRO have been directed to repair roads and make them free of potholes before start of the Yatra. The creation of an app has also been announced for monitoring the condition of roads.
It is pertinent to mention here that this time there are four registration options for the Char Dham Yatra. Yatra registration is available online, over the phone, via WhatsApp and through a mobile app. Devotees can register by visiting https://registrationandtouristcare.uk.gov.in. Alternatively, they can register via WhatsApp by sending "Yatra" to +91 8394833833.
The government has also issued helpline numbers for travel-related information and suggestions for devotees. These helplines include Char Dham's toll-free number 1364 and 0135-1364 (for other States), Char Dham's control room number 0135-2559898, 2552627, disaster management number 0135-276066, 1070 (toll-free), etc. Calling these numbers will enable devotees to get the aid and information they require.