Breaking News
Char Dham Yatra : Health screening made mandatory for 50-plus pilgrims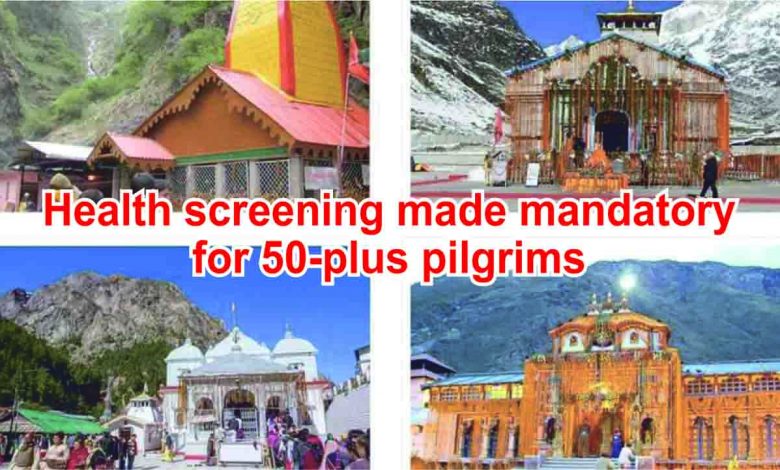 Sunday, 29 May 2022 | PNS | DEHRADUN
Alarmed by an increase in the number of deaths of pilgrims in Char Dham Yatra this year, the health department of Uttarakhand has made health screening of all pilgrims above 50 years of age mandatory. The pilgrims who would fail in the health screening would be asked not to move further on the Yatra. The director general (DG) of state health services, Dr Shailja Bhatt told The Pioneer that the health screening has been made mandatory for all 50-plus pilgrims. She said that the pilgrims failing health screening would be counselled not to undertake the Yatra. She however added that the pilgrims adamant to undertake Yatra can go ahead on their own risk and for it they would have to give an undertaking. Dr Bhatt said that a health screening of 5,462 pilgrims above 50 years of age was done on Saturday and out of them 115 were allowed further journey after taking an undertaking from them. One pilgrim returned back after failing the screening test on the day.
The DG added that in view of an increase in the number of pilgrims in Badrinath temple one physician from Government Doon Medical College (GDMC) has been deployed with immediate effect. Dr Bhatt said that the health screening of Kedarnath pilgrims is being done at Rudraprayag and Sonprayag while Badrinath bound pilgrims are being screened at Gauchar and Pandukeshwar. The screening of Hemkund Sahib pilgrims is being done at Govindghat and Ghangaria, of Gangotri at Hina and Yamunotri pilgrims are being done at Damta and Janakichatti.
Dr Bhatt further informed that 2,801 pilgrims were examined at health centres on Yatra route on Saturday and out of them 357 were given emergency treatment. Ten pilgrims were taken to the hospitals by ambulances. On the day oxygen support was provided to 267 pilgrims. The DG informed that 57,094 pilgrims have so far availed the benefit of OPDs of hospitals since the start of the Yatra.
She claimed that the concerted efforts by doctors and paramedical staff have started showing results and positive feedback on the facilities, treatment and behaviour are being received from the pilgrims.