Breaking News
Char Dham Yatra begins with opening of Gangotri & Yamunotri shrines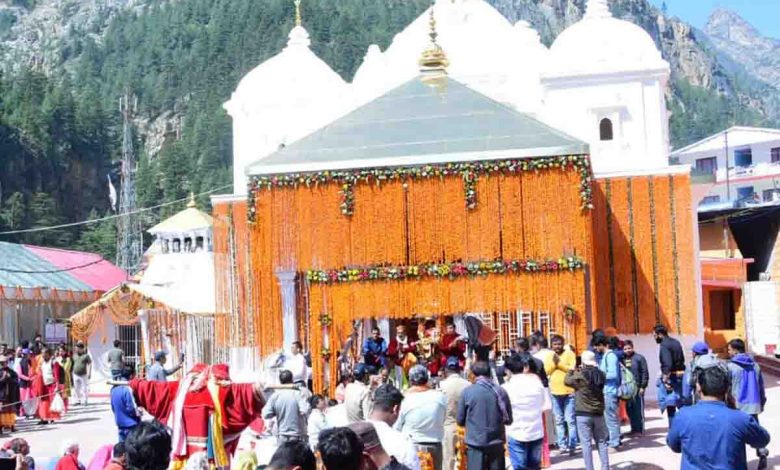 Wednesday, 04 May | PNS | Gangotri
The Char Dham Yatra started on Tuesday with the opening of the Gangotri and Yamunotri temples in Uttarkashi district on the occasion of Akshay Tritiya. A large number of devotees were present at the shrines on the occasion. Uttarakhand chief minister Pushkar Singh Dhami was also among those present during the opening ceremony of Gangotri temple. The first ritual prayer was offered in Gangotri on behalf of Prime Minister Narendra Modi. Dhami also offered prayers at the shrine. He said, "The Char Dham Yatra formally begins today. I welcome all the devotees on their arrival in Uttarakhand. Our government is committed to ensuring a convenient and safe Char Dham Yatra," said the CM.
The portals of the famous Gangotri shrine opened for devotees on the auspicious occasion of Akshaya Tritiya amid Vedic chants by temple priests at 11.15 AM. The portals of the Yamunotri shrine were opened at 12.15 PM to the sound of Vedic chants.
The portals of the Kedarnath temple will be opened for the devotees on Friday while the portals of the Badrinath temple will be opened on Sunday for which preparations are in full swing.
It is pertinent to mention here that the Char Dham Yatra could be not facilitated properly during the past two years due to restrictions put in place in view of the Covid pandemic. This year, the State government is trying to regulate the number of pilgrims visiting the Char Dham shrines daily and asking all the pilgrims to observe basic Covid norms like wearing masks. Lakhs of devotees have registered online for the Char Dham Yatra so far.