State
Chamba-Mussoorie road closed due to snow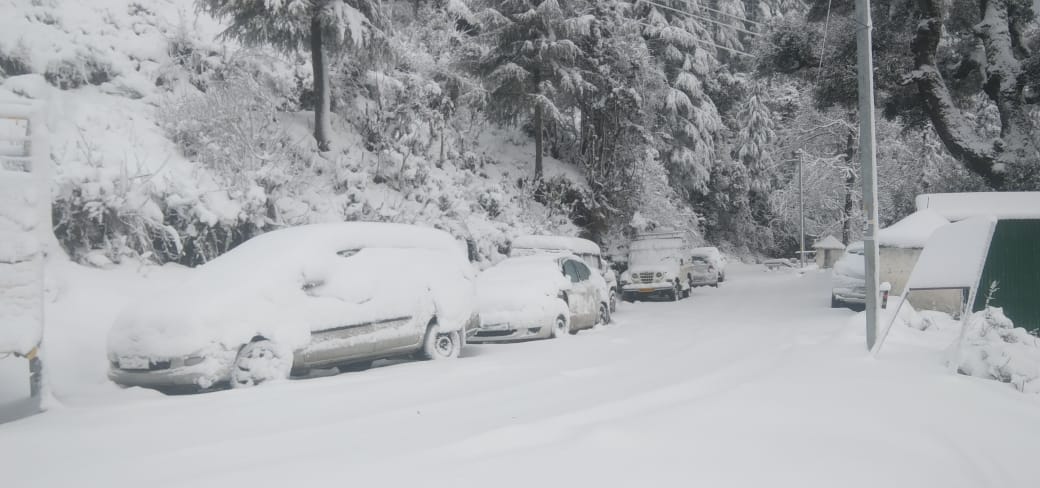 Monday, 24 January 2022 | PNS | New Tehri
The Chamba-Mussoorie motor road has been closed due to snow. The popular tourist spots of Dhanaulti along with Kanatal, Jharipani, Chopdial village and Surkanda area experienced snowfall resulting in the road blockade on Sunday. The area is experiencing intermittent snowfall from Saturday night that continued till Sunday noon.
The Chamba-Mussoorie route has been closed to traffic due to snowfall. Snow accumulation has also blocked Chamba-Mussoorie road between Suvakholi and Kanatal. The Dhanaulti sub divisional magistrate said that four mechanical excavators have been deployed at different places to clear the snow. The Electricity department sub divisional officer Amit Tomar said that snowfall had disrupted power supply in Dhanaulti, Thatyud, Kanatal, Jadipani and Chopdial areas. Work had been started to restore power supply, he added.
Meanwhile, Mussoorie received light snowfall on Sunday bringing cheer to locals and the business fraternity. As tourists generally start arriving here, in Dhanaulti and other nearby locations as the news of snowfall spreads to cities in the plains, visitor numbers are expected to rise if there is snowfall in Mussoorie and surrounding areas by late night. However, the poor and labourers are reeling under the cold as the temperature dropped considerably due to snowfall.