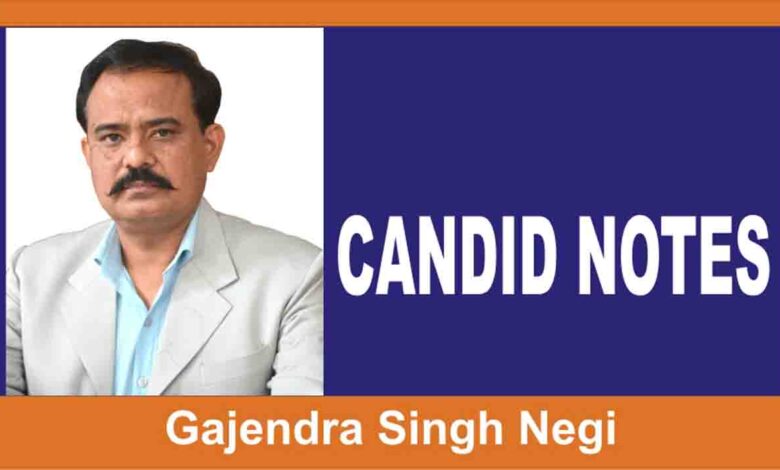 Friday, 16 June 2023 | Gajendra Singh Negi
Peace is paramount
Recent events in some parts of Uttarakhand have widened schism in the social fabric of the State which is known for its serene environment and simple peace-loving, god- fearing people. The reckless rumour-mongering meant to fan religious frenzy has precipitated the current situation. The bogey of love Jihad and land Jihad raised by those occupying responsible positions keeps haunting the collective mind. Irrespective of the political, religious and ethnic background of the troublemakers, the administration should go all-out to stem the venomous tide of communal polarisation. The government should also ensure that the situation does not escalate further and its actions should inspire confidence in the hearts of everyone. With the communal discord becoming a distressing feature of the social landscape of the land of gods, the civil society is expected to creatively intervene to restore harmony and peace.
Congress' quandary
Battered by internal wrangling and a series of electoral drubbing, the Congress party seems to have been caught up in a classical catch-22 situation in the political/electoral arena of Uttarakhand. The ruling BJP has already set up the tone and tenor of the next year's parliamentary elections while flaunting its exercise on the uniform civil code and harping on land and love Jihad. The upcoming Bageshwar by-election and the urban local bodies elections slated later this year are test cases for the saffron party to firm up its final strategy for the general elections of 2024. The Uttarakhand Congress leaders have been treading cautiously while taking on BJP's well- devised and time-tested strategy. They are in a dilemma as to what to do. Going hammer and tongs on these issues may prove counterproductive in electoral terms as BJP will use it to the hilt to label the party as anti-Hindu appeasers.
Flip-flop
In his eagerness to corner some credit for the suspension of the controversial director of the horticulture department, the cabinet minister Ganesh Joshi has ended up landing his own government in embarrassment. The minister convened a press conference and claimed that action against the director should have been taken much earlier and disclosed that the files in which the officer was indicted was getting stuck in the system with the purpose of protecting him. The minister boasted that he himself had taken the file to the CM who promptly suspended the officer. The minister's keenness stemmed from the fact that suspension of the horticulture director was exhibited as the CM's anti-graft action. Embarrassingly for Joshi, the suspended officer was also being touted as his blue-eyed boy. After the press conference Joshi was able to garner some credit for the suspension of the officer but he unwillingly exposed the system and the consistent claim of good governance and prompt delivery made by the government of which he is a part.