Entertainment
Bollywood singer Mithoon performs at Tula's Institute's annual cultural fest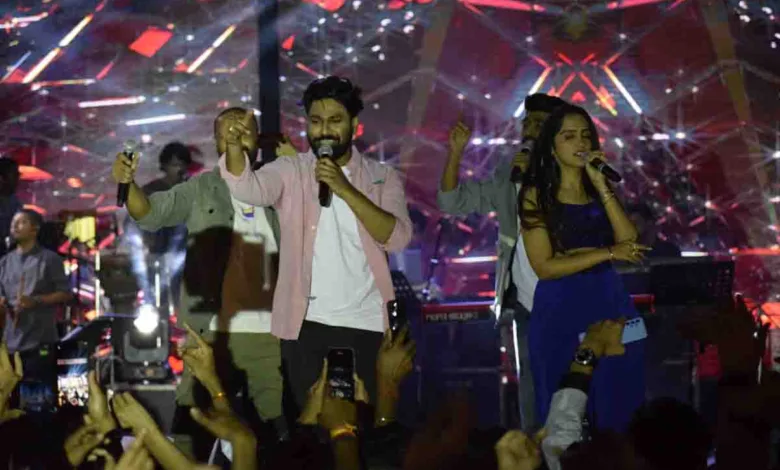 Monday, 15 May 2023 | PNS | DEHRADUN
The Bollywood music director and singer Mithoon performed on the second day of Tula's Institute's annual cultural fest 'Sanskriti 2023'.  Accompanied by singers Asees Kaur, Mohammed Irfan and Abhishek Nainwal, Mithoon sang some of his cult tracks, including 'Tere Bin', 'Sanam Re', 'Phir bhi Tumko Chahunga', among many more.  

A play was staged on the concluding day of 'Sanskriti 2023' in which the members of the college's acting club, Manchan participated. Besides, an award-giving ceremony was held wherein the stakeholders of Tula's Institute, including students, faculties and non-teaching staff, were felicitated.

Moreover, the results of the first day's competitions were announced. Swing Squad won a cash prize of Rs 20,000, Glitz and Glam won a cash prize of Rs 20,000 in the regional category and Northeast Cultural Fusion won a cash prize of Rs 10,000. Additionally, there were different awards for best singer, rap, stand-up comedian, etc., with a cash prize of Rs 3,500 each.

The chairman of Tula's Group, Sunil Kumar Jain, secretary Sangeeta Jain, executive director Silky Jain Marwah, director Tula's Institute Sandeep Vijay and deans Nishant Saxena and Ranit Kishore were present along with other staff members of Tula's Institute and Tula's International School.