Breaking News
BJP satisfied with Bageshwar win but will review to win more votes in future polls: Bhatt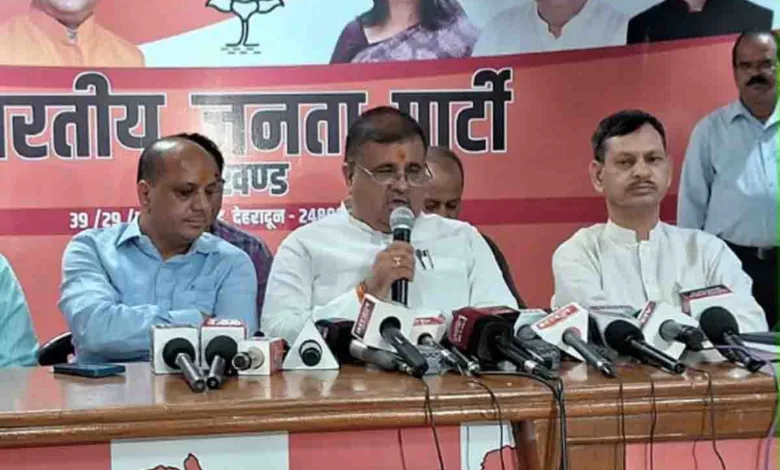 Sunday, 10 SEPTEMBER 2023 | PNS | DEHRADUN
Despite comparatively less voting in the Bageshwar Assembly by-election, the Bharatiya Janata Party candidate Parvati Dass received more votes than the party candidate received in the previous election in the constituency. She also secured a lead in 61 per cent of the 188 polling booths. However, the party workers always wish for a bigger margin of victory and considering this the party will review the election results and focus on strengthening its position in the booths where it performed poorly, said the BJP State president Mahendra Bhatt.
Addressing the media at the party's State office here on Saturday, Bhatt reiterated that the party's fifth consecutive victory in the Bageshwar constituency is a tribute to the late MLA Chandan Ram Dass' contributions and the developmental policies of the State government under chief minister Pushkar Singh Dhami. Expressing satisfaction at the party's victory he said that the verdict has made the BJP more confident about winning all the five seats in the coming Lok Sabha elections. On the question of the BJP candidate defeating the Congress candidate Basant Kumar by a margin of 2,405 votes he said that this time the party candidate has received more votes than in the previous election. He said, "Compared to the 32,211 votes received in the previous election, the BJP candidate received 33,247 votes this time though the voter turnout was seven per cent less than last time. Out of the total 188 polling booths, our candidate secured a lead in 115 or about 61 per cent of the booths. However, as a party worker, one always wishes for a bigger victory margin. As always, we will be reviewing the by-election and focus on strengthening in the areas where we lacked and prepare a strategy to win the trust of more people in future elections," said Bhatt.
Targetting the Congress, he said that the Congress had sacrificed its own party workers and brought in a wealthy candidate from outside the party to field in the Bageshwar by-election. Bhatt alleged that the Congress attempted to buy the support of voters and was indulging in misleading publicity and levelling baseless allegations to dupe the public. However, the people of Bageshwar showed that they cannot be bought and that their vote is for development, he said. Bhatt claimed that the BJP will continue its winning streak in the urban local body elections and also win all the five seats in the coming Lok Sabha election.