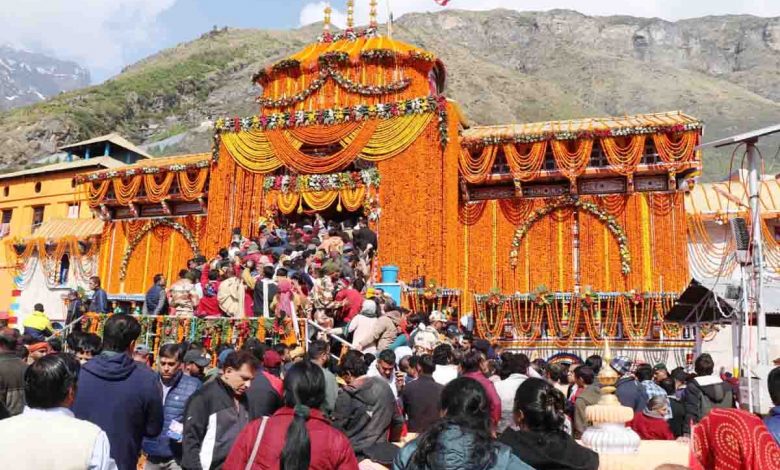 Monday, 09 May 2022 | PNS | Joshimath
The portals of Badrinath temple were opened to the public at 6:15 AM on Sunday in the presence of thousands of devotees. The ritual procedure of opening the portals began earlier at 4 AM. The Rawal (chief priest) Ishwari Prasad Namboodari, Dharmadhikari Bhuwan Chandra Uniyal and others started ritual prayers at the main gate of the shrine before going forward. The portals of the shrine were opened at 6:15 with devotees chanting 'Badrivishal Ki Jai'. As soon as the portals of the shrine were opened, goddess Lakshmi was installed at her own temple while the Gadu Ghada containing sesame oil was taken to the sanctum sanctorum. Uddhav and Kuber were placed in the sanctum sanctorum as part of the Badrish Panchayat. Earlier, the Rawal had accompanied the seat of Adi Shankaracharya, Uddhav and Kuber who were brought from the Yogbadri temple in Pandukeshwar to Badrinath on Saturday. On Sunday after the Rawal entered the shrine, he invoked the lord, removed the Ghrit Kambal (blanket) covering the lord during the winter and distributed its pieces as Prasad. More than 15,000 people were present when the portals of the shrine were opened and these people also witnessed the Akhand Jyoti. The temple was decked in about 20 quintals of flowers on the occasion while the Garhwal Scouts band played tunes to mark the occasion. The Mahila Mangal Dal of Bamni-Pandukeshwar and Mana also performed traditional folk dances and songs to celebrate the opening of the temple. While public feasts were also organised at various places, the first Mahabhishek Pooja in the temple was conducted in the name of Prime Minister Narendra Modi.
However, amidst the enthusiasm and devotion, the lack of proper management and arrangements was also visible at Badrinath. The devotees who had thronged the temple on this occasion had to suffer the effects of various departmental staff members being busy in facilitating 'VIP' darshan for their respective senior officers. Despite the rounds of meetings at various levels and instructions issued from the top and other levels, water and light facilities in Badrinath are still affected in some places which is causing inconvenience to the pilgrims. The condition of the road is also not good due to the all-weather road works being undertaken between Vishnuprayag and Pandukeshwar.