Others
Authors worth reading this monsoon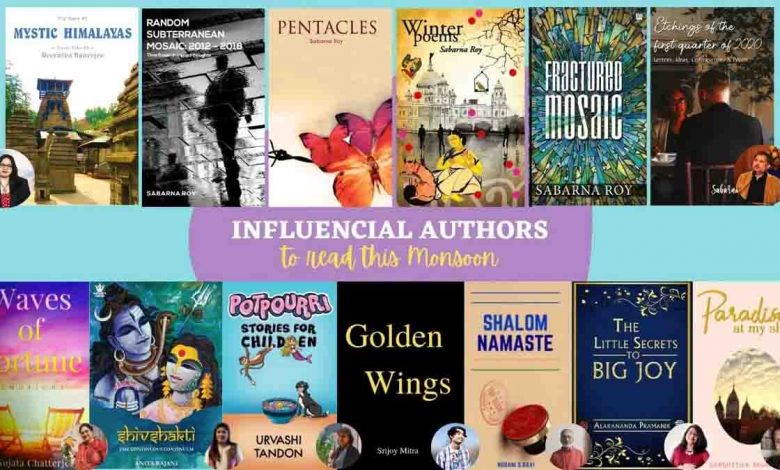 Friday, 16 July 2021 | PNS
Looking for something interesting during the monsoons? Explore these Indian authors and their handpicked titles.
Mystic Himalayas by Reetwika Banerjee
Author Reetwika Banerjee features in this list for her second trip diary'Mystic Himalayas' (from 'Travel Tales' series).The book elicits interest with a virtual expedition to thirty destinations across prime Himalayan circuits of India – Kashmir, Kumaon and North Bengal. Have you heard Mrs Morgan's scary screams in Kalimpong?Ohave you read a mysterious 'unposted' letter written by Jim Corbett? Or walked into a submerged Hindu temple in Kashmir? Reetwika tells you about the lure of the lost and forgotten in her inimitable style. She is a cybersecurity specialist by profession .'Mystic Himalayas' brings a medley of unacquainted folklores, mountain myths and haunted destinations of thirty Himalayan hamlets. Tales with brilliant photographs of the Himalayas brands itself a monsoon must read.
Literary Kaleidoscope from Sabarna Roy's Desk
Sabarna Roy is a bestselling author of seven published books. Some of his prominent awards include Literoma Laureate Award,Times Eminent Writer of the Year, Excellence Award from NewsX,Champions of Change etc.
"Pentacles" was Roy's first book publishing a novella and four ballads. The cover has a flock of butterflies crossing a barbed fence; which has a deep lateral connect. The butterflies reflect the different shades of life while the barbed fence symbolizes the menaces in life. Dark inter-relational dynamics of human mind have been portrayed beautifully in the story.
"Random Subterranean Mosaic 2012–2018" is a pool of poetry and conversations which are "random, yet mysteriously structured to a pattern." Its tagline, 'Time frozen in myriad thoughts' captures the absolute excellence. The book begins with a note for 'the dead, but not completely dead', setting the right tone for an absorbing read.
"Fractured Mosaic"is a sequel to previous book. The book makes its way to non-fiction, poetry as well as biographical genres. When musings of his artistic mind take the readers to a world of musings, it gives birth to 'Fractured Mosaic'. The book features twenty three sections and every chapter is written as a journal to imitate how the human mind works.
"Winter Poems" is a series of poems dealing with the idea of loss and coming to terms with gradual wasting of life. The two words which infuse highest romanticism are perhaps – Winter and Poems. Now, when these two words amalgamate, the harvest automatically lifts up a reader's expectations. Roy's poems wand various touch points of Calcuttans and cover chords an immediate connect with the City of Joy.
"Etchings of the First Quarter of 2020" contains Letters, Ideas, Conversations and also Poems under one cover, that excites readers as they are encapsulated in the whirlwind of confrontations between the poet and his alter-ego. Author's attempt in the book to bring epistolary literature back on the table must be appreciated.
Waves of Fortune by Sujata Chatterjee
It's an anthology of emotional poems. Each written word is like the drop of water which forms the sea and the poems are like the gurgling ocean, pregnant with emotions. The emotions range from feelings of the child as in My Mother, or the beating of the heart, when the sweetheart promises to come to her. The poet, as a doctor, also speaks about the frustrations of the physician, who is not recognized as a human being.
Shalom Namaste by NS Ravi
It details five cases of fugitives wanted by India, who were brought back by a special Indian intelligence cell in collaboration with the Israelis! The bringing back action takes place in England, the USA, Malaysia, Pakistan and UAE! Shalom Namaste, an absolute entertainer, takes you through a journey consisting of a series of intriguing and exciting adventures to bring in the absconders without hiccups.
Shivashakti by Anita Rajani
It's a bookto be published soon by renowned healer and therapist Anita Rajani, based on the principle of Divine Masculine &Feminine (commonly Shivashakti).It focuses on how the principle of Shivshakti exist in everything we see, feel and experience. It depicts a continuous continuum to higher dimensions.
Potpourri by Urvashi Tandon
Itis an amazing book that aims to increase environmental awareness in children. Cover artist did a splendid work. Youth are more impressionable and open to learning. Being the future of any society, inculcated awareness through a pleasant learning medium like stories is more beneficial than moral teaching, which adults themselves might need to revisit. This book was published just before the pandemic. Why don't you pick it up this monsoon?
Paradise At My Shore by Sarmistha Mukherjee
This little book of fiction is an amalgamation of thoughts which will provoke the reader to think about life, love, spiritualism and nature. The title of each narrative is attractive. Recommended to be read at leisure, the book depicts free-style expression which is simple and elegant. The book is supported by poet, Sarmistha'spictorial elegance. Easy to read,it is a compilation of memories written from the heart.
The Little Secrets to Big Joy by Alakananda Pramanik
Alakanandais an author, storyteller and a multifaceted woman, often tagged 'Supermom'. This book is a collection of storiesand quotes, each piece illuminates a shade of life experienced by us, ending with a strong positive message. The pieces are touchy, emotional and inspiring. Alakananda has very deeply studied the incidents happening in our lives, conceptualized and compiled them uniquelybetween the covers.
Golden Wings by Srijoy Mitra
It tells the story of a high-school fresher who desires to exit from prestigious admission after waiting for anxious approval into the academic program. The guy struggles to find meaning through cognitive understanding with a slightly older woman due to the recent death of his mother. This understanding requires him to jump the fence into the forbidden portion of society.