State
Authorities demolish resort of UKSSSC paper leak case accused Hakam Singh in Uttarkashi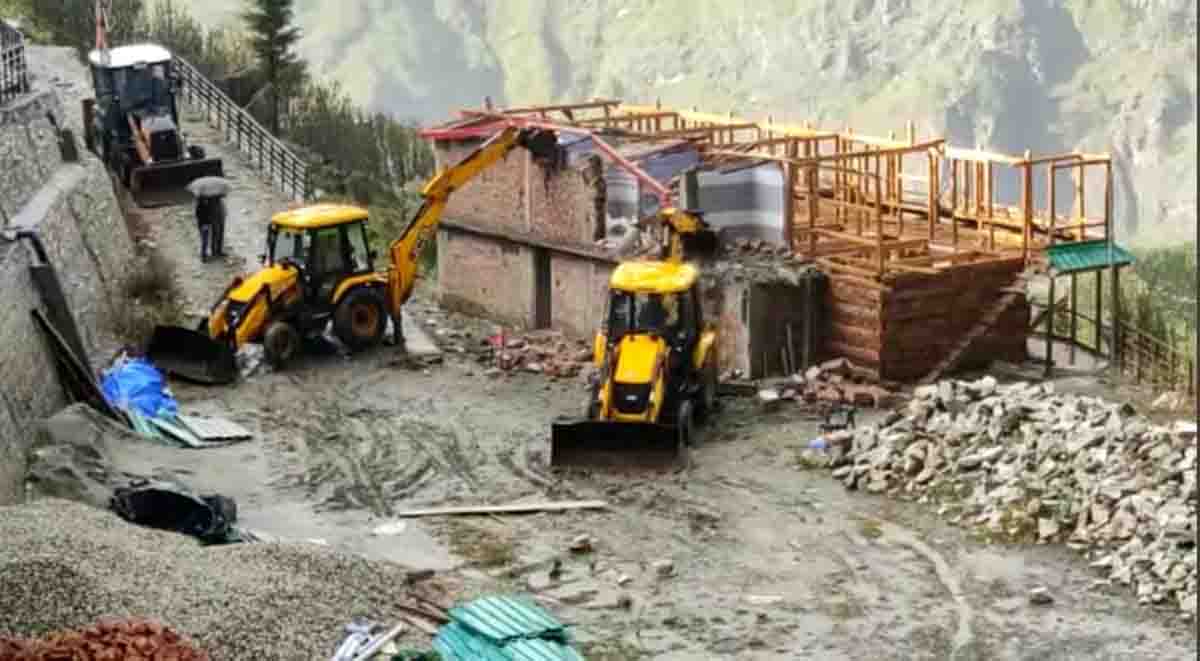 Wednesday, 05 October 2022 | PNS | DEHRADUN/NEW TEHRI
The authorities started the demolition process of the luxurious resort in Uttarkashi owned by Hakam Singh, one of the main accused in the Uttarakhand Subordinate Services Selection Commission (USSSC) graduate level recruitment exam paper leak case on Tuesday. Many locals also protested initially against the demolition of the resort located in Mori Tehsil in Uttarkashi stating that the authorities should not target a single structure and demolish it in the name of encroachment. They said that the administration should mark all the illegal encroachments in the area and then take action against them. The wife of Hakam Singh, Bisauli Devi also appealed to the authorities to not demolish the resort as according to her, it is registered in the name of her father and not her husband.
Considering the protests, a heavy police force was deployed around the resort to maintain law and order. The officials informed that over 200 police and ITBP personnel were deployed on the spot to carry out the demolition process without any obstruction. After the team of police, district administration and Forest department officials talked to the locals, they also helped the authorities in the demolition process. The villagers removed the windows, doors, ceilings, furniture, and other items including carved wooden pillars on the resort, and kept them safe before demolition. The deputy director of Govind wildlife sanctuary DP Baluni said that the authorities took action in the matter after the owners failed to remove the encroachment within seven days given to them by the authorities. The villagers also helped the administration in the demolition process, added Baluni. 
It Is worth mentioning that Hakam Singh's luxurious resort was made of Deodar wood on the land of Govind wildlife sanctuary. It was revealed in the joint investigation of the Special Task Force (STF) and Revenue Police that the resort was also being operated illegally. Apart from this, Singh had also developed two apple orchards on government land. The authorities have assured that action will be taken against all the illegal properties of the accused.