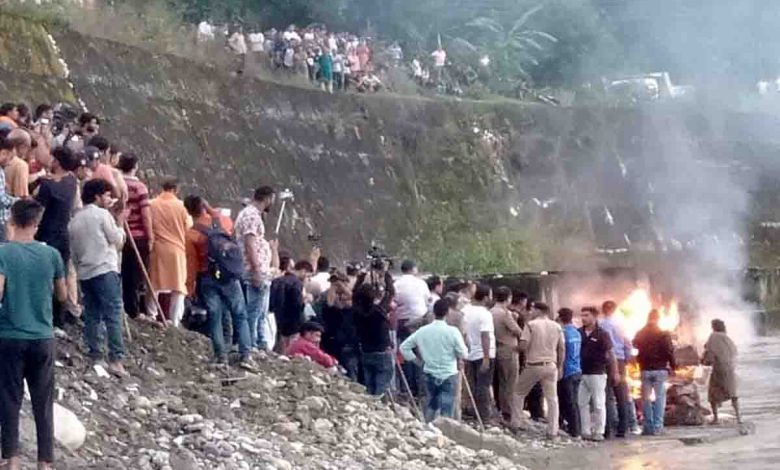 Sunday, 25 September 2022 | PNS | PAURI
Ankita Bhandari's family performed her last rites on Sunday evening after her family members and protesting members of the public were convinced by the authorities to not defer the cremation. The bereaved family was demanding the final post mortem report. The body of the 19-year-old who had worked as a receptionist at a resort in Rishikesh and was allegedly killed by her employer and two others was recovered from the Chilla canal on Saturday. Three accused including the resort owner Pulkit Arya who is the son of now expelled BJP leader have been arrested in the case.
Earlier, demonstrators blocked the traffic on the Rishikesh-Badrinath national highway outside the Srinagar medical college mortuary for many hours after the body was brought there from the All India Institute of Medical Sciences (AIIMS) in Rishikesh. At AIIMS too the public demonstrated and tried to block the ambulance carrying the body due to which the police had to resort to minor force to disperse the crowd and make way for the ambulance.
In Srinagar, the police and local administration tried for hours before convincing the family members of Ankita at about 5:30 PM. Her body was cremated in the presence of her family members and a large number of villagers and other members of the public at the Alaknanda Ghat.
Earlier, hundreds of demonstrators blocked the national highway to Badrinath with efforts of the district administration and police failing to convince them to clear the road. Pauri district magistrate Vijay Jogdande asked the demonstrators to send a delegation of four to five persons to discuss the matter but they insisted that talks be held in front of the gathering. The DM informed that the post mortem report could not be released in the public domain, after which the demonstrators demanded Rs one crore ex-gratia for the bereaved family and a government job for the victim's brother.
Jogdande had detailed discussion with the family members and finally managed to convince them that the final post mortem report will be received after two-three days and that it could not be released in the public domain.
It will be recalled that Ankita's murder has elicited outrage and protests across the State. Three persons including the son of a former BJP leader and owner of the resort she worked at, Pulkit Arya and two other resort employees Ankit Gupta and Saurabh Bhaskar have been arrested for the murder. Based on information provided by the accused, her body was recovered from the Chilla canal on Saturday, on the seventh day after she was first reported missing on September 18. A special investigation team formed on the directions of Chief Minister Pushkar Singh Dhami has already started investigating the case. Dhami has reiterated that the authorities will aim to secure the maximum punishment for the perpetrators of the heinous crime.