Top Stories
All resources being put in to rescue stranded workers: Gadkari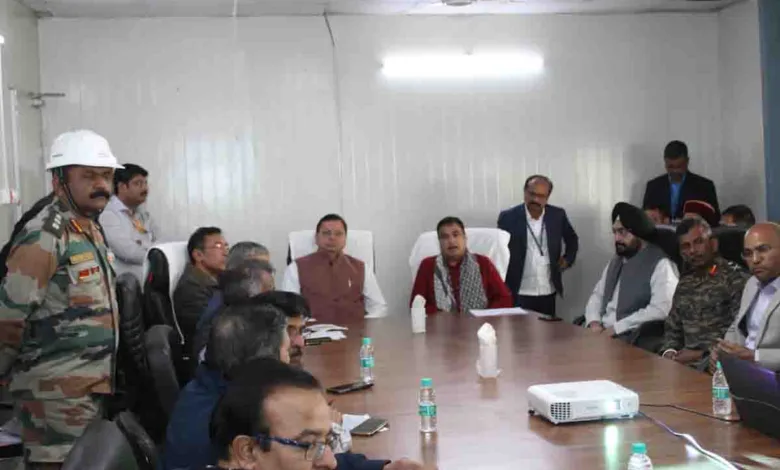 Monday, 20 November 2023 | PNS | DEHRADUN
The Union Minister of Road Transport and Highways, Nitin Gadkari has said that all types of technologies along with the advice of various experts are being used to ensure the success of the operation to rescue the 41 workers stranded in the partially caved-in Silkyara tunnel in Uttarkashi district. He reiterated that the priority of the government at this point of time is to rescue the stranded workers at any cost. Visiting the site of the incident on Sunday along with Chief Minister Pushkar Singh Dhami, the Union minister held detailed discussions with technical experts and officials in addition to meeting the family members of the stranded workers. He told media persons that currently six options are being worked upon as part of the rescue effort.
Gadkari arrived in the State on Sunday morning and reached the Silkyara tunnel site along with CM Dhami and senior officials. He also held detailed discussions with the officials and experts involved in the rescue operation. Addressing the media, the Union minister said that the rescue operation is being undertaken with work on six options including the drilling of three vertical channels to reach the stranded workers. "I am not a technical expert but I think that if the auger drilling machine continues to function properly we might be able to reach the workers in about two days. We have also brought a spare drilling machine for this operation apart from various other machines which have either been brought or are in the process of being transported to this site. The geology here is posing a challenge as there are soft strata and hard strata. However, the rescue operation is being undertaken on the suggestions of various experts and all necessary equipment and resources are being provided for it," he said.
Regarding the condition of the stranded workers, the minister said that the morale and health of the workers is good. "Doctors have been interacting with them and necessary medicines are also being provided to them. They have adequate space and are also moving around. We are also making another bigger channel to enable supply of proper meals to them as they were so far being provided dry fruits to eat," Gadkari said.
Regarding questions being raised on execution of the tunnel project, the Union minister said that the only priority for now is to safely rescue the stranded workers. "The State government has formed a committee to probe the incident and we will also set up an inquiry to delve into this incident in detail but for now, our focus is on rescuing the workers."
The Central agencies and State government are working round the clock to rescue the workers stranded in the partially caved-in tunnel since November 12.