Spiritual
Acharya Prashant stresses on inner celebration of Deepawali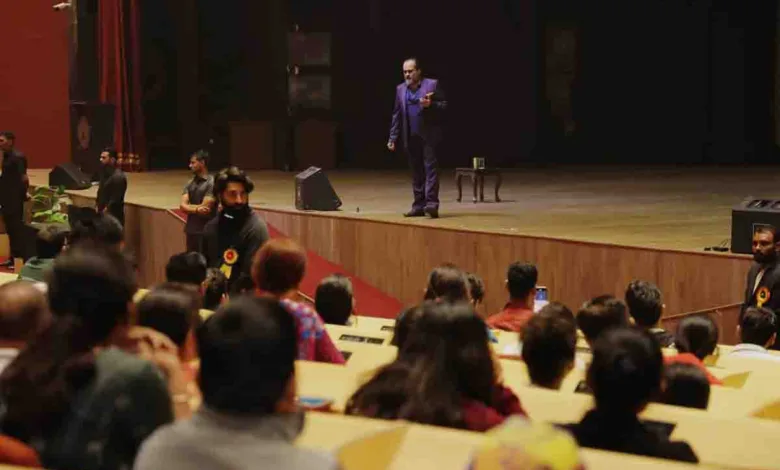 Tuesday, 07 November 2023 | PNS | DEHRADUN
During the Geeta Deepotsav programme held in Gautam Buddha University in Greater Noida on Monday attended by people from across the country, Acharya Prashant while representing the Prashant Advaita Sanstha dwelt on the outer and inner celebration of Deepawali. He said that although outer celebration is important it is bereft of any meaning if one's life is not illuminated by the inner light of the mind. "Superficial celebrations in the name of religion, devoid of spiritual depth, do not lead to genuine fulfillment," he said, adding that without inner transformation, Deepawali celebration is meaningless.
While explaining the spiritual significance of the Bhagavad Geeta, he said that one must embrace the reality of life and seek refuge in the Supreme Mentor-the Lord- when the course of one's life becomes uncertain. Shri Krishna's counsel to Arjuna to fulfill his duty, regardless of the war's outcome, was a crucial lesson in facing life's challenges, he said.
According to Prashant, the Bhagavad Geeta imparts lessons on selfless actions based on universal love. He said that ego and ignorance are the root problems of human existence while true knowledge or Vidya serves as the ultimate solution of life's problems and challenges. Selfless actions as stressed by the Geeta are actions consecrated to the Supreme Divine. As actions driven by selfishness lead to sorrow, all actions in life should be founded on unconditional and complete surrender to the Divine, allowing the divine to work through human instrumentation to fulfill the divine scheme in life, he said.
Elucidating further the Geeta's message, Prashant said that the intellect lies beyond the senses, the mind lies beyond the intellect and the soul is superior to the mind. He advocated for an education that focuses on character development leading to life's material and spiritual fulfillment.