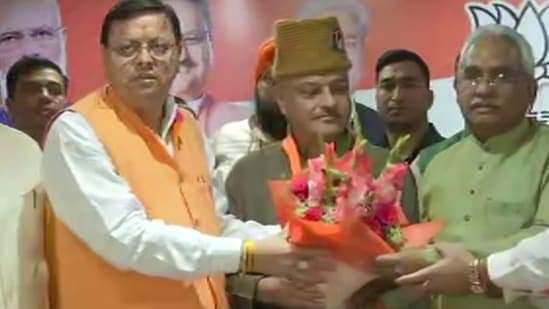 Former working president of AAP and hundreds of party members join BJP
Wednesday, 25 May 2022 | PNS | Dehradun
The Aam Aadmi Party's chief ministerial candidate in the Assembly elections, colonel (retd) Ajay Kothiyal joined the Bharatiya Janata Party on Tuesday, a few days after resigning from AAP. The AAP's former State working president Bhupesh Upadhyay also joined the BJP along with Kothiyal and 24 former office bearers of AAP in the presence of chief minister Pushkar Singh Dhami and BJP state president Madan Kaushik. The BJP claims that about 700 former members of AAP joined it on the occasion. Kothiyal said that joining the AAP was a mistake and that he was joining the BJP to rectify the error by joining an outfit which is linked to his mentality. Meanwhile, Dhami and Kaushik expressed hope that more people will join the BJP considering its ideology.
Dhami said that Kothiyal's attitude was not in line with AAP's ideology. "Whereas ex-servicemen are being suppressed in the AAP, the BJP has always worked while focusing on raising the morale of soldiers and focused on their welfare. These people have joined the BJP in the name of nationalism. The work culture of the BJP and Prime Minister Narendra Modi's personality is behind this. The existence of the AAP is starting to get wiped off from Uttarakhand. This will ensure the same fate for AAP across the nation," said the chief minister.
Kaushik said that many leaders of AAP have adopted the BJP's nationalist ideology and joined the BJP also influenced by CM Dhami's popularity and developmental attitude. He also made all the former AAP members secure the BJP's primary membership by making a missed call on 8980808080.
Speaking on the occasion Kothiyal said, "Many times we take emotional decisions which are not correct. I am correcting that error by joining the BJP. People had started telling me that I had joined the wrong party when I was in the AAP. This started disturbing me. I met the BJP national general secretary Kailash Vijayvargiya in Delhi and then he chided Bhupesh Upadhyay telling him that colonel Kothiyal is not a political leader but he should have acted wisely. Later, I met CM Dhami and I was convinced and felt comforted after our conversation which lasted about seven minutes. I had realized that the policies which influenced me to join the AAP were not actually good for Uttarakhand. That party made a mere show of being concerned about the welfare of ex-servicemen."