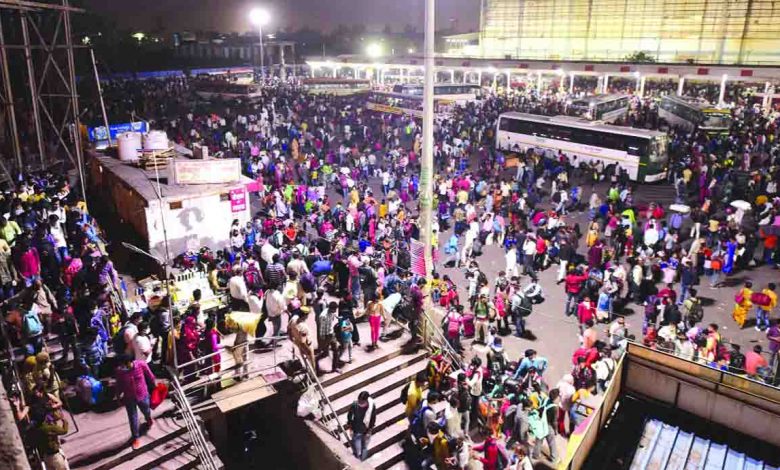 Tuesday, 20 April 2021 | Staff Reporter | New Delhi
Delhi CM says Govt will ramp up beds, oxygen availability during this period
Hours after Delhi Chief Minister Arvind Kejriwal on Monday announced a week-long lockdown in Delhi, starting from 10 pm on Monday till 5 am next Monday (April 26) in the wake of a sharp rise in coronavirus cases in the city, a large number of migrants arrived at Anand Vihar Railway Terminal and ISBTs to leave for their hometowns, scenes reminiscent of early days during the first lockdown.
Despite Delhi Chief Minister Arvind Kejriwal repeated appeal to labourers not to panic, a large number of migrant workers were seen at several bus stands in Delhi and NCR, with their luggage in a bid to exit Delhi fearing that lockdown would be extended. Photos and videos of people lining up at railway stations and bus stands surfaced on the social media. A migrant labourer in Jamia Nagar said he was heading for home as he, like many others, is not position to survive without jobs during the lockdown.
As Delhi reported the highest 240 Covid-19 deaths and 23,686 new cases in 24 hours on Monday with positivity rate of 26.12 pc, Kejriwal said the health system "has not collapsed but is under great stress."
"If strict measures are not taken now, the health system in Delhi can collapse. The Delhi Government would arrange for a large number of beds and utilise this lockdown to arrange for oxygen and medicines in this period of six days of lockdown," he said.
Also, the CM requested the labourers not to panic and stay in Delhi. He said in this duration, all essential services concerning food, medicine, etc, will continue, a total of 50 people would be allowed to attend weddings for which separate passes will be issued. He thanked citizens for their cooperation. He said, "We had understood on the very first day itself that this catastrophe could not be fought single-handedly by the Government."
"The support and cooperation of the citizens are crucial in this struggle. If at any time the citizens are not informed about the truth and all facts are not kept in front of them, it would be impossible to assure their cooperation. Hence, we provided all information to you," said Kejriwal.
Delhi is conducting the highest number of tests in the world per 10 lakh persons, he said, adding almost 1 lakh corona tests are being conducted in Delhi.
"We did not hide the number of people who lost their lives. The number of ICU beds available and the situation at hand – everything was informed honestly. It is due to this, whenever we took strict decisions, we received the cooperation of citizens," he added.
"As far as the current situation in Delhi is concerned, in the last 24 hours, approximately 23,500 new cases have come up. Prior to that, around 25,500 cases came to light. Hence, from the past 3-4 days we have noticed that around 25,000 cases are coming up on a daily basis and the number of beds in the Delhi hospitals is falling short. There is a shortage of oxygen as well," he said.
"We need to decide on the next step that needs to be taken have to be in light of this situation. The Corona situation in Delhi is very critical. Till now, we managed the health system in Delhi quite well. This is the fourth wave in Delhi. The first wave was encountered last year in June wherein around 4,500 cases had come up. The second wave was in September. Then the third wave saw around 8,500 cases. There are cities in the most developed countries of the world whose healthcare systems collapsed as they witnessed 6,000 cases," he said..
Kejriwal further said that Delhi encountered 8,500 cases in the third wave, yet our health system did not collapse. On the other hand, we ramped up our preparations but today, with 25,000 cases the health system of Delhi has reached its limit, he added.
The chief minister further said, "I had a meeting with Lieutenant Governor at 11 AM. today and discussed at length the entire situation at hand and all its aspects. After this, we felt that Delhi's healthcare system would not be able to take in more patients on such a large scale. If we do not impose a lockdown now, we might face a tragedy. We do not want Delhi to face such a situation where patients are lying on the corridors or losing their life on the streets; at any cost," he added.