Breaking News
5 dead, 3 injured as utility falls into gorge in Ghansali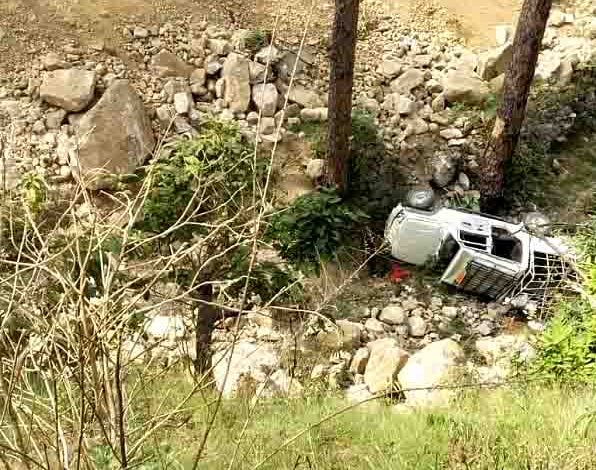 Friday, 10 June 2022 | PNS | New Tehri
With there appearing to be no respite from fatal road accidents on the mountain roads of Uttarakhand, five persons died and three were injured in a road accident on the Ghansali-Ghuttu motor road in Tehri district. The mishap occurred on Thursday afternoon when the driver of a utility vehicle with a total of eight persons lost control of the vehicle near Pokhar village, causing it to fall off the road and down the mountainside. Five persons died on the spot while the three injured were sent for medical treatment.
According to sources, a utility vehicle with a total of eight persons on board was being driven from Ghansali to Saud when at about 2 PM, the driver lost control of the vehicle. The utility fell into a gorge killing five persons on the spot. The State Disaster Response Force (SDRF), police and local residents rescued the three injured persons who were then sent to the primary health centre in Pilkhi for treatment.
Those who died in the mishap have been identified as Lakshmi Prasad (66), Pratap Singh (44), Gunanand (65), Bihari Lal (65) and Hema Singh (50) – all residents of Saud village. The injured have been identified as Saud residents Vijay Ram and Rajendra Singh along with Batuva village resident Bachan Singh who was also the driver of the ill-fated vehicle. The exact cause of the mishap was yet to be ascertained till the time of filing this report. Meanwhile, chief minister Pushkar Singh Dhami has expressed grief at the mishap and directed officials to ensure proper treatment of the injured persons.
It is pertinent to mention here that there has been a spate of road accidents in the State since last month, coinciding with the Start of the Char Dham Yatra. At least three major accidents have taken place on mountain roads this month alone. Earlier, on June 5, 26 persons died and four were seriously injured when a bus carrying pilgrims from Madhya Pradesh fell into a gorge near Damta in Uttarkashi district en route to Yamunotri. A day later, on June 6 three persons died and six were seriously injured when the jeep they were travelling in fell into a gorge at Chamitok in Champawat district.