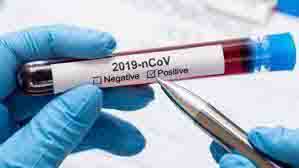 Thursday, 02 December 2021 | PNS | Dehradun
A total of 25 police personnel have been found Covid-19 positive in the rapid antigen test (RAT) out of total 13,062 cops in the past three days in Uttarakhand. The Director General of Police (DGP) Ashok Kumar had issued an order to all district in-charges and unit in-charges on Monday to carry out RAT of all police personnel after seven police personnel who were deployed for the security of President Ram Nath Kovind in Rishikesh were found positive for Covid-19 the previous day. A total of 13,062 police personnel have been tested for Covid-19 so far from Tuesday out of which, 25 were found positive. Kumar informed that out of these 25 patients, 10 personnel are from Haridwar, six from Pauri, four from Chamoli and one each was from Rudraprayag, Champawat and Bageshwar, stated Kumar.
He informed that one each was also tested positive from the Special Task Force (STF) and Intelligence Headquarters. The DGP said that all the personnel with positive test reports were fully vaccinated and have been quarantined as per the protocols. He said that Uttarakhand police took this precautionary measure to test all the police personnel for Covid to restrict the contagion immediately after seven police personnel were found positive on Sunday during the president's visit.
He said that the police are conducting contact tracing of these 25 personnel and the remaining will be tested soon too. Earlier, the police informed that the RAT report of 50 police personnel came out positive against Covid that included 25 personnel from Indian Reserve Battalions I (IRB I) of Ramnagar. However, the reports of these 25 personnel turned out to be negative for Covid after conducting a second test during the evening. The officials informed that all these personnel were quarantined after positive reports but they will return to their duties on Friday.