Breaking News
21 bodies identified, 2 still missing after Draupadi Ka Danda avalanche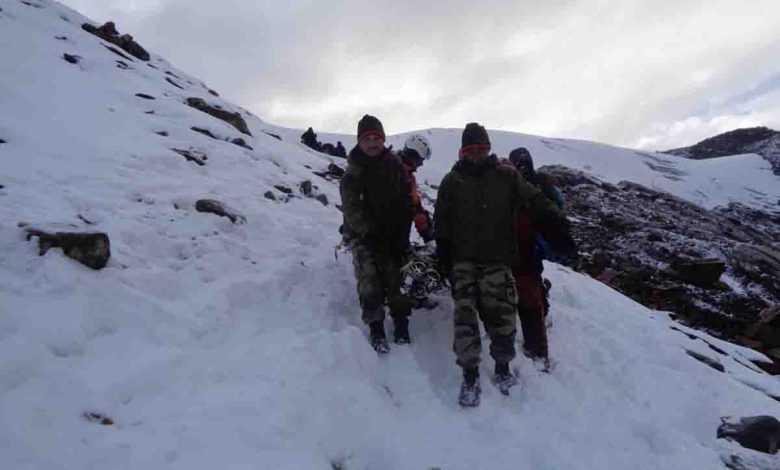 Monday, 10 October 2022 | PNS | DEHRADUN
10 bodies sent to Uttarkashi, bad weather prevents transportation of 6 other bodies
With the bodies of 10 members of the Nehru Institute of Mountaineering (NIM) hit by an avalanche on Draupadi Ka Danda II on October 4 being sent to Uttarkashi on Sunday, the bodies of 21 out of the 27 persons who died have been identified so far. According to official sources, out of the 61 persons in the team, 27 died and two are still missing while 32 were rescued safely.
It will be recalled that on October 4, 29 persons undertaking the NIM advance mountaineering course at Dokrani Bamak glacier in Uttarkashi district were stranded in crevices after being hit by an avalanche on Draupadi Ka Danda-II mountain at an altitude of 5,200 metres. Along with the Indian Air Force, army and Indo-Tibetan Border Police, the assistance of the personnel of High Altitude Warfare School from Jammu and Kashmir was also taken while the State Disaster Response Force search and rescue team was sent to the affected area.
On Sunday, the search and rescue teams continued their efforts and sent the bodies of 10 persons to Uttarkashi. The bodies have been identified as those of trainees Atanu Dhar from New Delhi, Vikram M from Bengaluru, Narendra Singh from Pauri, Gohil Arjun Singh from Mount Abu, Satish Rawat from Chamba in Tehri, Anshul Kainthla from Shimla, Rakshit K from Bengaluru, Kapil Panwar from Bangaon in Uttarakhand, Lance Naik Shubham Singh from Uttar Pradesh and Amit Kumar Shaw from Kolkata.
Out of these bodies, six were handed over to the families for the last rites while four bodies were sent for embalming by road to Dehradun from where they will be sent by air to West Bengal, Karnataka and Gujarat. Officials further informed that due to the weather deteriorating after Sunday afternoon, the helicopter operation was hampered due to which the six other bodies recovered could not be transported from the forward camp to the base camp and from there to the district headquarters. The search is still on for the two missing persons.