Technology
10 e-buses flagged off on two extended routes in Doon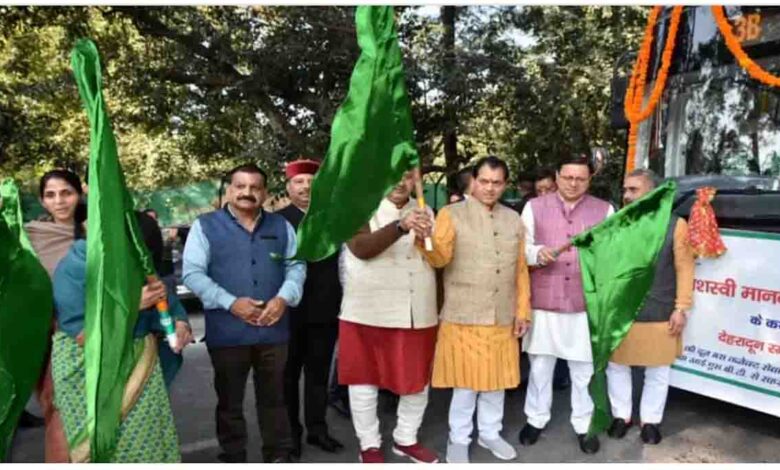 Monday, 05 December 2022 | PNS | DEHRADUN
Dehradun now has 30 electric buses plying on various routes
Chief minister Pushkar Singh Dhami flagged off 10 electric buses which will ply on the extended ISBT-Maldevta and ISBT-Sahaspur Road routes on Sunday. These buses will enhance the Doon connect service of the Dehradun Smart City Limited (DSCL) under which 20 e-buses are already operating on four routes.
After flagging off the buses, the chief minister also bought a ticket and boarded a bus to Clock Tower along with two of his cabinet colleagues and officials. He also directed the DSCL chief executive officer and Dehradun district magistrate Sonika to ensure that the general public is aware of the schedule of the electric buses. Dhami said that the 30 electric buses now operating under the Smart City project will result in considerable convenience to the commuters on different routes in Dehradun. While the public will enjoy a convenient and safe public transport, operation of the electric buses will not result in pollution. The operation of these buses will help in developing Dehradun into a green and clean city, he said. The main aim of operating the electric buses is to encourage the use of public transport. The operation of these buses will also result in decreasing air and noise pollution, added the chief minister.
It is pertinent to mention here that apart from the 10 electric buses launched on two routes on Sunday, 20 electric buses are already operating on four routes- ISBT-Rajpur, ISBT-Raipur-Selaqui, ISBT-Sahastradhara and ISBT-Dehradun airport. According to officials, a total of 12.47 lakh persons have travelled in these buses so far which has resulted in generation of revenue amounting to Rs 2.41 crore. Considering the high number of commuters using these buses and demand for more buses on these routes, the authorities extended the ISBT-Raipur route till Maldevta and the ISBT-Selaqui route till Sahaspur Road. The 10 new buses will ply on these extended routes.
Urban Development minister Prem Chand Agarwal, Agriculture minister Ganesh Joshi, Dehradun mayor Sunil Uniyal 'Gama' and others were also present on the occasion of the launch.